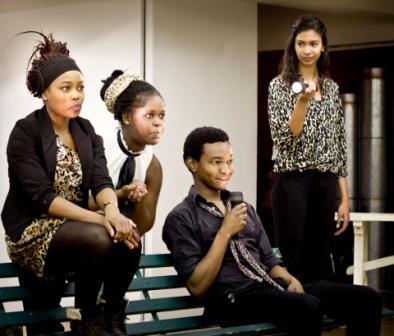 Rhodes > Latest News > 2013
Between tenderness and terror
Date Released:
Thu, 5 July 2012 15:59 +0200
Cross-legged and naked, a man sits on stage and tells the audience he is not satisfied. He is dissatisfied, he says, taking a drag of his cigarette, because he has trained himself so well and so hard not to be dissatisfied. In this intimate space, the audience is pulled in as a group of confidantes, made to feel safe and welcome.
In another scene of Tender, Rhodes University's official Main Arena production at the National Arts Festival, the audience is frustrated and alienated by simultaneous and therefore unintelligible monologues in Afrikaans, Xhosa and Zulu, while trying to catch a word in the shouting chaos in order to understand where each character's dissatisfaction comes from.
Swinging between the intimate and the alienating, the hilarious and the horrific, tenderness and terror, this ensemble piece by first time Fest director Madele Vermaak keeps the audience engaged and constantly questioning.
Vermaak describes the collaboration piece rooted in her own experiences as "an exciting interaction with multi-media, live performance, and an awesomely talented cast." The multi-cultural cast workshopped the piece under Vermaak's guidance to respond to the South African context from different backgrounds.
"Rhodes University is a strange place because we're all from different economic and social backgrounds, and different parts of the country. It's a chance to get to know each other better, to explore the possibilities," says Vermaak. As a response to the idea of unity emitted by the media, the linked solo pieces reflect the lived experience and dissatisfaction of the cast members through music, choreography, physical theatre, acting and chorus.
The theme of dissatisfaction runs through the performance, often connected to skin colour. "People don't feel comfortable in their own skin… and they don't really question where that comes from," comments audience member Clara Baumann from Germany, who believes the piece is predominantly about miscommunication. "People don't know how to connect with each other in their everyday life," she says in response a scene where two commuters on a bench speak about each other in French and Spanish monologues instead of communicating directly with each other.
While many fragments offer a heavy meal of thought about the so-called rainbow nation, lighter moments provide the perfect balance. During one such scene, an estate agent shows some clients around a house that stands as a metaphor for South Africa. "Democracy is the most durable wood at the moment," she says. "You can make any kind of mess on it."
In a parody of the popular TV series Sewende Laan, the audience is left in stitches as two cast members provide live interpretation, and later direct and humorous commentary on the show. "It's awkward", says one interpreter during an uncomfortable moment, which is concluded by the continued and increasingly sinister laughter of cast members.
The fragmentation of the performance drew varying reactions from the audience. "It dealt with a lot of issues, but maybe I was expecting a storyline or something," said third year Drama student Zano Mthembu. Another audience member who preferred not to be named, was not sure what the cast was trying to get at, but added that maybe that was the point.
Ultimately, the piece leaves the audience with a melange of intimacy and discomfort, as well the realisation that the artificial construct of the rainbow nation is more dissatisfying and uncomfortable than any of us would care to admit.
By Ruth Woudstra
Picture by Amitie Lee/Cue Pix
Source: