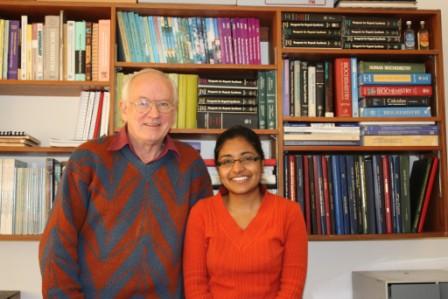 Rhodes > Latest News > 2013
Biochemistry student set to become forerunner in Alzheimer's research
Date Released:
Thu, 19 July 2012 10:59 +0200
Aiming to bridge the knowledge gap in Alzheimer's disease research, Biochemistry PhD student, Eden Padayachee has been awarded an International Brain Research Organisation (IBRO) travel grant to attend a prestigious neuroscience conference in New Orleans.
The $ 2000 grant (R16 000) will cover all expenses to attend the five-day conference in October this year.
"It will be the highlight of my PhD career," says Eden with characteristic enthusiasm.
"I have never been to an international developed country before and believe it is crucial at this point to help establish international networks. Science is all about building on the knowledge hub in South Africa and facilitating the spread of knowledge through research which is why young, bright minds like me are needed."
Eden is the only delegate from South Africa to attend the conference. She is studying towards a PhD this year, conducting neurodegenerative research on how Alzheimer's dementia (which is very prevalent in the USA) affects the brain and nervous system.
"I find that a lot of research has been focused on malaria, HIV/Aids and TB, allowing research on neurodegenerative disorders to fade away into the background." This is disconcerting particularly because Alzheimer's is under-diagnosed and -reported in South Africa, despite around 250 000 reported cases of dementia – a precursor to Alzheimer's.
Eden's supervisor, Emeritus Professor Chris Whiteley (who is currently conducting research in nanotechnology and malaria in Taiwan) was instrumental in motivating his student to apply.
"Being selected to attend a conference like this has a lot to do with how you motivate your application and having a passion for what you do," he said, adding how Eden is not only talented and dedicated but certainly has loads of passion for her work.
Eden also attended a conference in Thailand where she came to the fore with what Prof Whiteley describes as "nanoneuroscience" using the principles of nanotechnology in neuroscience.
"My desire to travel was instigated by Prof!" says Eden, with a grin. "And I love motivating people to be passionate about what they do."
Eden completed her Masters in Biochemistry at Rhodes and has received discretionary funding from the Research Office, the Dean of Science and the National Research Foundation.
Proud to represent Rhodes University and South Africa, she is particularly looking forward to the mentoring process, which is a unique feature of the conference. All IBRO awardees will be matched up with an expert in their field, ensuring a valuable knowledge exchange and networking process, including how to market yourself as an up-and-coming young scientist.
Her paper: "A mechanistic understanding of Alzheimer's disease: interaction with glycine zipper motifs with neuronal nitric oxide synthase" will be presented at the conference as well as be published in the Journal of Neuroscience in October.
She will also present a poster at the International Fellows poster session entitled "A mechanistic understanding into Alzheimer's disease" and engage in discussion and debate around the subject of Alzheimer's.
"The diversity of expertise and knowledge will be influential in moulding me to make my mark as a medicinal biochemist in the field of neuroscience and enhance my skills, so as to train emerging young scientists with new techniques and experimental designs and techniques that will be showcased here. In so doing I will be able to put Africa on the map by facilitating the spread of new and exciting ideas related to Alzheimer's research."
Story and Picture by Anna-Karien Otto
Source: