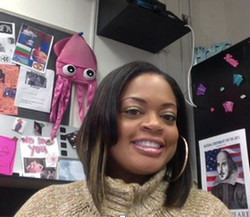 Rhodes > Latest News > 2013
Buffalo Grove's Ami Relf Receives National Award to Study in South Africa
Date Released:
Fri, 19 April 2013 14:15 +0200
Ami E. Relf, an English teacher from Buffalo Grove High School, was recently selected as one of 25 National Endowment for the Humanities (NEH) Summer Scholars from a national applicant pool.
Relf will attend the University of Arkansas at Monticello's 2013 NEH-funded Summer Institute, "South Africa: Continuity and Change." The Institute will take place during five weeks (June 20–July 28), primarily in Cape Town, South Africa, but will also include study in Port Elizabeth, Johannesburg and Durban.
Summer Scholars will learn about the geography, history, culture, society, religion, education, economy and government of South Africa. The Institute faculty is certain that the participating teachers will set out on an intellectual adventure of discovery, learning, and field study in South Africa, which has the potential to transform their classroom activities when they teach about Africa.
In South Africa the institute will be affiliated with Rhodes University in Grahamstown. Professors at the university will deliver lectures to participants, who will also attend a variety of events at the National Arts Festival, the largest on the continent. They will also hear lectures from faculty members of the University of the Western Cape in Cape Town.
During this time, visits to historical and cultural sites in and around Cape Town will take place: the Nelson Mandela Museum in Mthatha, the KwaMuhle Museum in Durban, the Ezulwini Valley in Swaziland, the Apartheid Museum and Soweto Township in Johannesburg, the Voortrekker Monument and Museum in Pretoria, the Open Mine Museum and the "Big Hole" in Kimberly. For two weeks, participants will conduct a field study throughout the country, interacting with South Africans and visiting cities, savannas, mountains, lowlands, and coast.
The University of Arkansas at Monticello's 2013 NEH Summer Institute on "South Africa: Continuity and Change" is one of 22 seminars and institutes supported by the NEH, a federal agency that, each summer, supports these enrichment opportunities at colleges, universities, and cultural institutions so that teachers can study with experts in humanities disciplines.
The 25 Summer Scholars selected to participate in the program each receive a stipend of $3,900 to cover their travel, study, and living expenses.
The approximately 520 NEH Summer Scholars who participate in these programs of study will teach almost 65,000 American students the following year. Although this is not the first NEH Institute for which Relf has been selected, it is her first Summer Scholars experience abroad. Relf is thrilled to embark on her summer of study in South Africa.
"Teaching World Literature offers me the opportunity to teach literature from authors from around the world," said Relf. "Currently, I teach three novels by African authors: A Long Way Gone, Purple Hibiscus, and Things Fall Apart. It is important to have representations of African literature in the World literature curriculum. This inclusion breaks down the stereotypes students have about Africa and African people."
"As I continue to teach African literature, be it a poem, short story or novel, I want to be able to give my students an "insiders" perspective," Relf explained. "Attending NEH's 'South Africa: Continuity and Change' will give me the opportunity to have a greater knowledge of the culture and literature.
The institute will allow me to integrate an 'insiders' perspective into the classroom, to increase my students' levels of engagement and provide my colleagues with materials and research to benefit the entire student body."
Caption: Ami Relf, BGHS teacher, has received a grant to study in South Africa
Sourced from District 214,Community Contributor
Source: