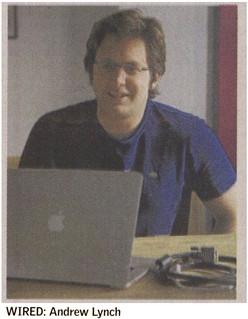 Rhodes > Latest News > 2013
Cable guy plugs into lucrative gap in market
Date Released:
Mon, 29 October 2012 12:59 +0200
A bout of frustration over a missing iPod cable has turned into a lucrative business for university student Andrew Lynch. Today he sells cables for all sorts of appliances as well as electronic equipment to customers around South Africa — while studying politics at Rhodes University in the Eastern Cape.
The 25-year-old entrepreneur launched his business earlier this year after discovering that customers were being charged an arm and a leg for some electronic accessories. "I had an iPod Shuffle that ... cost about R400 to R500," Lynch said_ He somehow lost the cable and began hunting online for a replacement.
"I think they wanted about R230 for the cable and I just thought: 'That's not on! I'm sure I can get this cheaper somewhere else." " Lynch's master's thesis was the catalyst for the business. "My thesis centres on China. I was sitting there writing ... and as a distraction I thought: 'Let me see if I can find these [cables] in China.
People talk about importing everything from China, so there should be an easy way to do it.' "I surfed the web for about an hour or so, sent off about 10 e-mails, got one or two favourable responses and just worked from there." Lynch received his first batch of 10 iPod cables from China shortly afterwards — bought for the same A quick web surf as a distraction from a master's thesis put student on the money, writes Andriques Che Petersen amount retailers in South Africa were asking for a single cable.
When he flogged the remaining nine on bidorbuy, he was off. In May he launched a virtual store called Cable Kiosk, which he runs with his partners Mike Winn and Kerry Chemaly. Old Rhodian Winn, who works as a data administrator for Google in Ireland, helped develop the website, CableKiosk.co.za"which is now getting close to 1 000 visits a day.
Lynch said he had always had an entrepreneurial spirit — starting at Highbury Preparatory School in Hillcrest, KwaZulu-Natal. "I remember, in Grade 7, there was a club called the Entrepreneurship Club. We were a group of about 20 and you'd sit with a teacher and discuss ideas: it would eventually culminate in a sale day at the end of the year. I was always excited about it." An aunt, Shirley Edwards, said: "When he was in high school he ... asked me to manufacture key rings for him with his high school emblem on it that he sold at school to staff and students.
He was 14 then, and he saw a gap in the market at his school and he went for it." Lynch is disappointed that South Africans do not seize opportunities to get involved in start-up companies. "We sent out an e-mail a few weeks ago looking for developers to come on board," Lynch said. "I've read stories of businesses in Silicone Valley, Stanford University, where start-ups would send out a call for CVs and get hundreds of responses. Here we sent out a call for CVs and we got four responses; it's disappointing.
"I think in South Africa there's a lack of enthusiasm. It's not like we're not going to pay you — we're one of the best-paying companies in Grahamstown," he said. Lynch expects the business to grow, and already employs four people to help package imported products and maintain the website. "We believe we can take on some of the larger manufacturers in the country simply because we don't have the same distribution costs they have. "They have to get all their products to different stores around the country, then those stores take a cut on top of that. We distribute from a single warehouse directly to the public," he said. 'I just thought: "That's not on! I'm sure I can get this cheaper"


Story by: Andriques Che Petersen
Source: Sunday Times
Caption: WIRED: Andrew Lynch
Source: