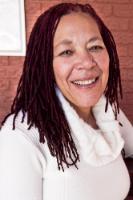 Rhodes > Latest News > 2013
Call for quality teacher education
Date Released:
Wed, 20 November 2013 11:00 +0200
A LEADING academic has made a strong call for quality teacher education on how teachers need to mediate challenges of society such as HIV-Aids.
Delivering the Education Public Lecture on The lives of children, citizenship and teacher education: challenges and opportunities at the University of the Free States Bloemfontein Campus, Prof Jean Baxen, Deputy Dean of Research at Rhodes University in Grahamstown stressed the need to quality in teacher education.
"Our education system needs quality teacher education," she said.
Growing up in White River, the rural areas of Eastern Transvaal (as it was previously known but now Mpumalanga), Prof Baxen took the audience on a journey of the imagination.
She shared stories of how she and fellow pupils walked miles to get to school and how her son found himself in a situation of being unsure about his own racial identity, questioning what it meant to be coloured. She also related stories of how teachers are not sufficiently prepared to mediate information on HIV-Aids.
These stories revealed how little teachers cared, and also how difficult and challenging it is for pupils to cope in such teaching and learning environments - thus calling for quality teacher education.
She stressed the fact that quality teacher education is needed in South Africa to assist in curbing the challenges children and fellow citizens come across in our broader society.
It is important that, as teacher teachers, we should groom teachers to find and understand their identity, sexuality, and also the world they live in.
There is an urgent need for us to hold ourselves and others accountable and to not distance ourselves and make it someone elses responsibility - it is our joint responsibility as citizens, she said. We need a pedagogy that would navigate and start formulating a language that we could use to face these challenges, she said.
Source: The New Age
Picture by: Judith Doubell
Source:The New Age