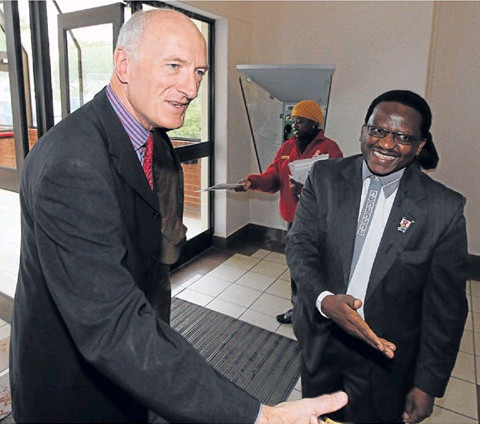 Rhodes > Latest News > 2013
Cameron feels solidarity crucial for SA
Date Released:
Wed, 31 October 2012 11:59 +0200
SOUTH Africa's democracy may be going through tough times, but the Aids epidemic has taught South Africans that social solidarity can overcome massive problems, says Constitutional Court Judge Edwin Cameron.
Delivering an intensely personal lecture at Rhodes University in commemoration of World Aids Day, Cameron, who speaks openly about being gay and HIV-positive, said South Africa was going through a most worrying phase in its democratic development.
"We are 18 years into our democracy and workers are angry, there is turmoil in union representation and there are big issues around politics and political leadership." But there were many lessons to be learnt from the Aids epidemic. "If we can get the world's biggest and best ARU programme going we can overcome much bigger problems.
This is an epidemic of sadness, an epidemic of fear, an epidemic of bereavement and loss. But it is also an epidemic of hope." He said prevention, testing, treatment and stigma were the four big issues in Aids. In May 1981, when Aids was first given its name, the first thing that happened was fear, ignorance and stigma, he said. "Stigma informed all our responses and how we dealt with it."
He was first diagnosed with HIV in 1986 when he was in his early 30s. "It was the end of my life. I would never see 40, I would never see a democratic South Africa. "I would never be a judge. Back then it was a disease of death." He said he was overwhelmed with shame to have such a "reviled virus" in his body. "I spoke to no one — because of the stigma."
He said it took him three years before he managed to talk to people about it. In 1997, with shocking gastro-intestinal thrush and on the point of death, he had begun ARV treatment. "It was extraordinary. Within two weeks I knew my life had been given back to me." Fifteen years later, Cameron is fit, healthy and about to embark on his seventh Argus cycle race. He said the Treatment Action Campaign had successfully taken on big drug companies on the issue of drug patents and ARVs had become affordable and accessible to all.
Later on, they had successfully taken on former President Thabo Mbeki's Aids denialism and had won an enormous victory in the ConCourt — which found the government's failure to provide ARU treatment unreasonable. "It was an important lesson. Civil society took on these issues strategically with good energy, good principle and good information."
He said Aids had taught South Africans about medicine, about vulnerability, stigma, activism against big corporations and about the rule of law. "But the biggest lesson learnt was that social solidarity can overcome any problem." But he warned that more needed to be done.
"The stigma attached to HIV has started to drop, but not enough. We talk about HIV, but not enough. We have 1.7 million people on ARVs but it's still not enough. We are still losing 200 000 people to Aids every year. We know from all those deaths that the stigma is still too high."
Story By ADRIENNE CARLISLE
Picture: DAVID MACGREGOR
Caption: Constitutional Court Judge Edwin Cameron with Rhodes University deputy vice-chancellor Dr Sizwe Mabizela. Cameron gave a World Aids Day commemoration lecture at the university yesterday
Source: Daily Dispatch
Source: