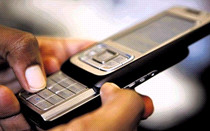 Rhodes > Latest News > 2013
Cellphone initiative to make a difference
Date Released:
Wed, 6 February 2013 06:59 +0200
University experts will pilot application to improve service delivery
RHODES University new tech experts are hoping to increase citizen participation in local government by using cellphones to connect residents and Makana municipal officials.
After 18 months hard work developing a groundbreaking cellphone application called MobiSAM, university computer science experts are now counting the days until it is finally rolled out and piloted in Grahamstown.
The only thing however holding back Dr Hannah Thinyane and her team from test driving the world first application in the City of Saints is the vital memorandum of understanding paperwork that will be signed with the Makana Municipality.
Thinyane said yesterday she was confident the new cellphone application would be in use "within the next couple of weeks".
"The primary benefit of MobiSAM is that it allows residents to voice their concerns about particular problems and for the municipality to communicate responses."
Although the application can be used to deal with any service delivery problems, it is being piloted only on water issues in the area.
Besides allowing citizens to alert municipal authorities to problems in their areas, it also provides officials with a platform to convey ongoing updates to consumers.
According to Thinyane, responses could be: "we are aware of a broken pipe in your area or your water supply will resume before 5pm".
"In addition, the technology helps to gather important data on water service provision – such as the number and length of outages, response times, water quality, etc – which enables residents and stakeholders to participate more meaningfully in municipal processes."
The application was praised by acting Municipal Manager Thembinkosi Myalato yesterday as an "excellent technology" platform for the broader community to raise key issues and get official feedback.
Although Thinyane said the technology could not solve the numerous challenges facing water delivery in Makana, it was hoped it would facilitate dialogue and gather data and that the application would contribute towards improved citizen participation and evidence-based problem solving.
The concept was developed by the Australian-born academic and her South African computer science husband, Dr Memello Thinyane, who describes mobile computing as the "new frontier".
"If you think about it, a mobile phone is really one of the only single-user devices … every phone is used by only one person, compared to a computer which is often shared by multiple people — so this opens up an exciting field of research."
While the application can be used to tackle any issue, water monitoring – considering Grahamstown's ongoing problems with this vital resource – was the natural choice of opening communication channels between residents and the local authority.
Grocotts Mail editor Steven Lang – who will also be working on the MobiSAM project – yesterday said he was optimistic about the project, especially if Myalato was involved. "I am impressed with how open he is towards the media.
"He has often been patient and quite frank about the situation … I hope he stays long enough to make a difference."
Story by David Macgregor
Source: Daily Dispatch
Source: