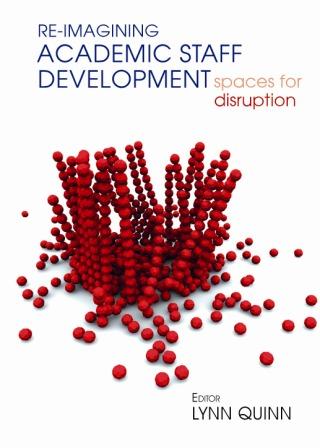 Rhodes > Latest News > 2013
CHERTL book launched at HELTASA conference
Date Released:
Tue, 4 December 2012 10:59 +0200
A much acclaimed volume with chapters written and edited by Rhodes University staff members from the Centre for Higher Education Research Teaching and Learning (CHERTL) was launched along with three other new books on higher education at the Annual conference of the Higher Education Learning and Teaching Association of Southern Africa (HELTASA) held at Stellenbosch University from 28 to 30 November.
The CHERTL book entitled: "Re-imaging academic staff development: spaces for disruption" which, in the words of one reviewer, "demonstrates a strong commitment to social transformation" contributes significantly to the scholarship of academic development.
The notion of disruption runs throughout the text to suggest that the changes in the higher education context, as explored in a chapter by Sioux McKenna, demand a re-imagination of teaching and learning and hence academic staff development.
The chapters authored by Jo-Anne Vorster, Sue Southwood, Lynn Quinn, Markus Mostert and Dina Belluigi interrogate the theory and practice of formal courses for academic staff.
One reviewer suggested that the book "represents an important milestone in the emergence of a scholarly focus on staff development in South Africa" and another said, "Anyone with an interest in critically examining what our universities are doing today will find this book fascinating and challenging".
Dean of Teaching and Learning at Rhodes University, Professor Chrissie Boughey, in her preface to the book points out, "In a field where development, whether of academics, curricula or institutions, is the key focus, the achievement of the contributors in this respect must be applauded, not least because it gives an indication of what can be realised elsewhere, and thus, hope for the future."
In addition to the book launch, approximately 20 Rhodes staff and CHERTL postgraduate students presented papers at the HELTASA conference. Some of the presentations reported on cross institutional National Research Foundation (NRF) projects while others showcased staff and student development work and research at Rhodes.
Six of the CHERTL PhD scholars involved in the Social Inclusion NRF project participated in a symposium in which they presented work in progress. There were papers on challenges to women's academic careers; graduate attributes; teaching and learning in the disciplines; the relationship between access student agency and success; technology enhanced teaching and learning; and developments in the South African higher education context.
CHERTL staff members also contribute to HELTASA through involvement in the Executive Committee of this professional organisation for academic developers. Jo-Anne Vorster currently serves as the secretary of the organisation while Amanda Hlengwa is the treasurer.
The launch held at the Stellenbosch Institute for Advanced Study in South Africa (STIAS) and hosted by the Centre for Teaching and Learning at Stellenbosch University, was part of a special event called "Celebrations and Reflections".
The event celebrated the growth in the scholarship of higher education and honoured the immense contribution to the field of academic development of Professor Ian Scott who is due to retire in 2013.
Source: