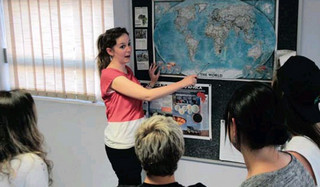 Rhodes > Latest News > 2013
City teacher headed for Antarctica
Date Released:
Sat, 5 October 2013 12:20 +0200
A Three-month stint in the freezing cold of Antarctica, working with a host of professionals while researching landforms that form in cold, dry climates is a dream Pretoria teacher Liezel Rudolph is about to fulfil.
The 25-year-old teaches high school geography and life orientation at Abbots College in the east of Pretoria where she started off as a home work supervisor/ tutor. She has a passion for geography, and geomorphology in particular.
"I love geography, for its practicality and broadness." She has been teaching for two years, and, she explains, allows her pupils to go beyond what the curriculum provides. "We talk about the real stuff that constitutes geography, and when I told them about my trip they were very excited for me," she said. Rudolph was selected to be part of a national team set to set sail to the freezing southernmost point of the Earth in December.
"There will be about 80 of us travelling there, and the team I will work with will be doing research into landforms, looking into their formation, what they look like, and if there are any living organisms on them," she said. The fully funded trip is a South African National Antarctic Expedition (SANAE IV) and National Research Foundation programme, and the team will be based at the fourth research base in Antarctica.
The different teams will share information and will also work with foreign teams based there. Rudolph will be starting on a masters programme with the University of Pretoria, and the research work she will be doing will feed into that. But she also wants to enrich the classroom experience of her pupils with the practical lessons she will go through.
"They need to understand that geography is a practical subject, and I hope to be able to incorporate it into practical work, excursions, and in the research work I assign them," she said. She said practical lessons were all that was missing from teaching: "I hope programmes like these will be the start of the introduction of these in the curriculum," she said. Rudolph will be travelling with a team from Rhodes University, that includes biologists, oceanographists and marine biologists.
They will travel on the newlylaunched SA Agulhas H, on which they will spend between two and three weeks in the trip between Cape Town and Antarctica. She explained that the duration of the trip would depend on the levels of sea ice. "On board there will be a lot of safety training," she said, adding that there would be limited internet and telephone connections.
"From that point until we come back we will have limited contact with the outside world." In the build-up to the trip Rudolph has had to undergo strict physical training, including rock climbing. "This is to enable you to climb out in the event you fall into an abyss or something," she said.
Caption: Geography teacher Liezel Rudolph explains the details of her trip to Antarctica to her pupils. Rudolph has been chosen to be part of a research team which will be based on the frozen continent for four months.
Picture By: KWANELE MBOSO
By: Nthando Makhubu
Article Source: PRETORIA NEWS WEEKEND
Source:Pretoria News Weekend