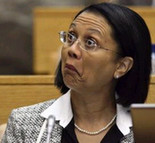 Rhodes > Latest News > 2013
Concern over time allowed to comment on marine bill
Date Released:
Wed, 22 May 2013 09:59 +0200
A group of 13 academics and environmentalists has written an open letter to Agriculture, Forestry and Fisheries Minister Tina Joemat-Pettersson to express "deep concerns" about the shortness of time she has given for comment on the Marine Living Resources Amendment Bill and fishing rights allocation policies.
Ms Joemat-Pettersson has been widely criticised for mishandling fisheries management, potentially losing South Africa its status as a world leader in sustainable fisheries management.
"We wish to register our deep concerns with the inadequacies of the public participation process being organised by your department in relation to the Marine Living Resources Amendment Bill and General and Sector Specific Rights Allocation policies.
"We do so as a group concerned for the future of South Africa's fisheries and fishery resources and with considerable experience in fisheries science and management. Many of us have been involved in South Africa's fisheries management for over two decades and between us we have been engaged in working on fisheries in all five continents," the group said in the letter sent on Monday evening.
The Ministry of Agriculture, Forestry and Fisheries initially gave until June 10 for comment on the act and the policies, but last week reduced the comment period. Comment must be in on Friday.
The group comprises: Prof George Branch of the University of Cape Town's (UCT's) department of biological science; Prof Peter Britz, Prof Warwick Sauer and Prof Kevern Cochrane, of Rhodes University's department of ichthyology and fisheries science;
Prof Doug Butterworth of UCT's department of mathematics and applied mathematics; World Wide Fund for Nature SA (WWF-SA) Southern African sustainable seafood initiative manager John Duncan;
Prof Moenieba Isaacs of the University of the Western Cape's Institute for Poverty, Land and Agrarian studies; director of the Masifundise Development Trust Naseegh Jaffer; Prof Tony Leiman of UCT's Environmental Policy Research Unit; director of the Oceanographic Research Unit Larry Oellermann;
WWF-SA sustainable fisheries manager Samantha Petersen; and Dr Serge Raemaekers and Prof Merle Sowman of UCT's Environmental Management Unit.
The group said the bill made a number of important changes to the act and while many were good, it included "inconsistencies on a most fundamental issue, the nature of the rights to be awarded".
Picture caption: Agriculture, Forestry and Fisheries Minister Tina Joemat-Pettersson.
Picture: Trevor Samson
By Sue Blaine
Source: Business Day
Source: