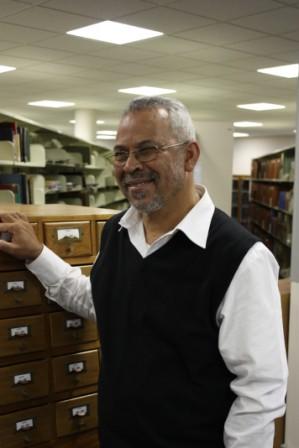 Rhodes > Latest News > 2013
Cory Library welcomes new head
Date Released:
Fri, 20 July 2012 10:59 +0200
A well-travelled academic, writer, academic archivist and curator, Dr Cornelius Thomas has taught in South Africa, the United States, and Saudi Arabia and has published several books. Now, as the newly appointed Head of the Cory Library for Historical Research, he is planning to transform the research library into an even more vital and exciting research facility.
"Part of my job is to make this facility into a more intellectually vibrant space by broadening its scope as research library to accommodate inter disciplinary and trans-disciplinary studies." His plan is twofold: to diversify the holdings and collections and attract more researchers and students and to "engage with the more diverse holdings".
His connection to Rhodes University goes back to the mid to late 90s when he taught History at the East London campus. Later, he visited Rhodes as a parent, when two of his four children attended the university.
"I enjoy Rhodes," he says. "I know and understand the work ethic of the university and it was a place I felt confident sending my children to," adding that he finds Grahamstown pleasant and manageable with a lot to offer. "It is not difficult to be at home here."
More recently, he operated as an independent editorial and publishing consultant while running Wendy's Book Lounge, before handing it over to his son in April last year. He is therefore quick to bring attention to upcoming Cory Library publications, including the launch of Michael Tetelman's study of the Cradock Four, (untitled at present) which is expected to be launched in September.
Before that Cory Library will launch renowned historian Colin Bundy's Govan Mbeki and Tony Dold and Michelle Cocks's Voices from the Forest, both by Jacana, 2012, respectively on 16 and 25 July.
He particularly encourages Rhodes staff and graduate students to consider publishing through Cory Library "so that we can ensure that the proper peer review process is followed, which makes government subsidy a viable option."
"I have to change Cory from a conventional library orientation to a comprehensive research facility- with our book and journal collections; archival holdings and museum materials standing in relationship with one another," he says.
Dr Thomas grew up in Cape Town and attended the University of the Western Cape (UWC). History and Psychology were "my official majors and, unofficially, student protests and activism".
As a member of the South African Students Organisation, he was involved with his fellow UWC activists' response to the Soweto Uprising , which he recounts in Wakker wakker en aan die brand (1997) as well Cocktails of Liberty (2009).
He obtained his PhD in History at the University of Notre Dame in Indiana in the USA, which laid the foundation for his research interest in South African and United States comparative history.
After returning to South Africa in 1994, he taught History at Rhodes-East London Campus and at the University of Natal. From 2004 to 2010, he served as director of the Liberation Archives at the University of Fort Hare.
Photo and story by Anna-Karien Otto
Source: