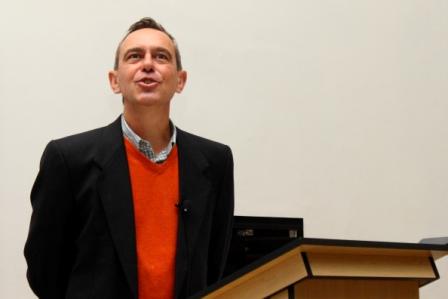 Rhodes > Latest News > 2013
Courts and the judiciary safeguard democracy
Date Released:
Tue, 31 July 2012 11:59 +0200
"If I was in government I would laud the courts for doing their work. For individuals living in isolated communities not being listened to by government, the courts can help to deepen democracy in helping people get government's attention. This role should not be underestimated," stated Professor Pierre De Vos during last week's final session of the Department of Political and International Studies' Tenth Annual Teach-In.
"Our courts have been very good in trying, mostly, to make sure that the law doesn't hinder economic transformation. Where it has interfered, it has done so on behalf of the poor and marginalised," Prof De Vos, legal commentator, Deputy Dean at UCT Law Faculty and Claude Leon Foundation Chair in Constitutional Governance said during his presentation entitled "Don't touch me on my policy! The role of the judiciary in the economic transition of South Africa."
"The Constitution is not a stumbling block to economic transformation, but even if it were, it would be marginal. The ability and political willingness to do what is necessary to improve the healthcare system and increase access to education are some of the real stumbling blocks to sustainable, long-term transformation," he said, flagging the crucial roles the judiciary performs in a young democracy.
It is inevitable that in a constitutional democracy there are going to be tensions between the legislative and executive branches on the one hand, and the judiciary on the other, Prof De Vos said, alluding to President Jacob Zuma and ANC Secretary General Mr Gwede Mantashe's comments regarding the interference of the judiciary in government processes and claims that the judiciary is hampering government's ability to enable transformation in South Arica.
These tensions are not new or unique to South Africa, Prof De Vos said, but emphasised that in a one-party dominant state, the judiciary plays a vital role of holding the other two branches to account.
The dominance of the ANC, he believes, is largely a result of unequal distribution of resources to political parties and the unattractiveness of opposition parties to the majority of South Africans. As a result, Prof De Vos said that certain pathologies will arise: "There is always going to be the danger that it will capture the state and its institutions and it will become harder to hold it to account," he said.
"In this context the courts and the judiciary have an important role to play in safeguarding democracy and facilitating certain processes," Prof De Vos said, adding, "The big problem is that in a one party political system there is a threat that the political party won't take the necessary steps that will ensure that transformation is sped up."
Prof De Vos has published articles on sexual orientation, discrimination and same-sex marriage, the enforcement of social and economic rights, HIV/AIDS, the construction of race, racism and racial discrimination and other human rights issues. He is a regular media commentator on the South African judiciary and South African law. He writes a blog called Constitutionally Speaking, which is available at www.constitutionallyspeaking.co.za.
The purpose of the Annual Teach-In is to consider an issue of public interest and interrogate public issues. For more information visit: www.ru.ac.za/politicalinternationalstudies/teach-in.
By Sarah-Jane Bradfield
Source: