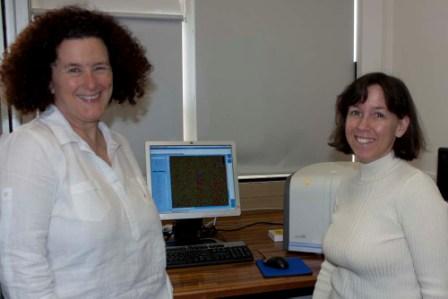 Rhodes > Latest News > 2013
Cutting-edge Life Sciences equipment accelerates research
Date Released:
Mon, 3 December 2012 09:59 +0200
R20 million worth of recently acquired research tools awarded by the NRF National Equipment and National Nanotechnology Equipment Programmes (NNEP) to Rhodes University, forms part of the development of regional and national research infrastructure accessible to researchers at other universities including Nelson Mandela Metropolitan University (NMMU) and the University of Fort Hare (UFH).
Fondly referred to as 'the most awesome collection of biologist nerd toys ever' by Dr Earl Prinsloo as he introduced the items at the launch, the equipment includes a 454 GS Junior Sequencing Platform, a Zeiss LSM510 META Confocal Laser Scanning Microscope, a Biorad ProteOn XPR36 Interaction Array System for Surface Plasmon Resonance (SPR) spectroscopy, a BD FACSAria Fluorescence Activated Cell Sorter with Flow Cytometry (FACS) and a Roche xCELLigence Real Time Cell Analyser (RTCA) SP system, all of which are a source of particular excitement to the Department.
The Roche GS Junior 454 sequencing system employs "Next Generation Sequencing" (NGS) technology that has dramatically increased the capacity to rapidly DNA sequences at substantially reduced costs. This piece of equipment can analyse 70 000 samples at R 0 30 a sample in 16 hours as opposed to older technology with the capacity to analyse 360 samples at approximately R70 per sample.
Managed by Dr Gwynneth Matcher, the GS Sequencing Facility is already providing a research platform for multidisciplinary research ranging from aquatic and marine microbial ecology (a project funded by the Rhodes University Sandisa Imbewu Programme), virus ecology, drug discovery and research projects in the Southern Ocean funded by the NRF South African National Antarctic Programme.
Prof Janice Limson and Dr Prinsloo led the NNEP application for the BioRad ProteOn XPR36 Interaction Array System, an optical biosensor which measures previously undetectable weak interactions between biomolecules. It is a vital nanotechnology tool for understanding disease mechanisms, designing drug targets and in diagnosis.
The added benefit of the instrument is in its high throughput design reducing average data collection time in multiple replicate experiments from one week to approximately one hour.
The BD FACSAria and the xCELLigence RTCA provide systems for analysing mammalian cellular content, separation of cells and monitoring cells in real-time. The combined equipment provides a powerful toolset for the cancer and stem cell research foci within Biomedical Biotechnology.
"Research at Rhodes is at an extremely exciting point. Because of our small size, we can cut right across disciplines in answering some of the more enduring questions in science," says Prof Limson. Through these equipment programmes, she adds, the NRF brings much needed cutting-edge research tools to researchers and postgraduate students in South Africa.
She also believes that the trio of Rhodes, NMMU and UFH within the Eastern Cape provides a formidable partnership in its bids for hosting regional and national facilities of this kind.
However, the network to support the ProteOn XPR36, which is also a national facility, extends across South Africa, and strong support was provided by the Universities of Kwa-Zulu Natal and Zululand. According to Dr Prinsloo this is only the second instrument of its kind in South Africa.
Prof Rosemary Dorrington adds that despite its small size, Rhodes' status as one of the top three SA universities in terms of research output per capita is a reason for becoming a facility for the equipment.
"The substantial investment made by the University to support new infrastructure and research programmes, our formidable research infrastructure is sometimes our best-kept secret despite being one of our biggest assets," she says.
Thanks to the new equipment, post-graduate students at Rhodes and its partners now have local access to state of the art technology to support their research, literally on their doorsteps. The equipment has already made a major impact on research, such as the XPR36, which has not stood still since it arrived at Rhodes in April with students eagerly queuing up to use it.
The grants were awarded following successful applications thanks to the efforts of Professors Dorrington, Limson, Greg Blatch and of Drs Prinsloo and Adrienne Edkins from the Department of Biochemistry, Microbiology and Biotechnology.
Photo and story by Ruth Woudstra
Photo: Professor Rosemary Dorrington and Dr Gwynneth Matcher stand in front of the 454 GS Junior Sequencing Platform, launched at the Biological Sciences Building recently.
Source: