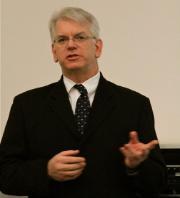 Rhodes > Latest News > 2013
Democracy in decline
Date Released:
Tue, 7 August 2012 15:59 +0200
"The Born Free generation is not more democratic but actually less so -- they are less democratic than their parents and grandparents," said Prof Robert Mattes in his talk, " 'The 'Born Frees': The Prospects for Generational Change in Post-apartheid South Africa".
Prof Mattes said, "we have cause to be concerned about the state of our democracy". Lukewarm support for democracy, low levels of participation, high levels of intolerance of political difference and high levels of xenophobia all characterise South Africa's current political climate.
Contrary to global and historical trends in politics, which show an increased support for democracy following periods of social instability and political incongruence (as with apartheid), the Afrobarometer discovered South Africans to be less embracing of democracy. Also contrary to global trends was their finding that higher education doesn't equate to increased social and political tolerance.
In order to consolidate or make a democracy more robust, the process of re-socialisation is crucial, he said. Environmental change and practicing democracy are the most important means of this process.
"Simply doing democracy makes people more democratic," he said. But despite the ANC's efforts to restructure government and reinforce principles of democracy through the education system, in 2008, the Afrobarometer found that just over one third of South Africans were democratic supporters, said Prof Mattes. More surprising was the finding that the Born Free generation (those with no memory of apartheid, who were socialised into a normal democratic political system) were less supportive of democracy than previous generations.
So what gives? Why has the Struggle Generation (defined as age sixteen between 1976 - 1996) been more committed to democracy than a generation who has never been exposed to another form of government?
There are no conclusive answers to this question, however Prof Mattes acknowledged: "There's something unique about the way [the Born Free generation] has been socialised that's not changing." He continued, "lines of race, class and spatial location have been repeated to the next generation." Failed curriculum reform is likely to be a major contributing factor to this regression in democratic support.
According to the Afrobarometer, the Born Free generation is less urban, less educated and less likely to consume news media than previous generations -- each one of these features is in strong opposition to democratic tendencies. They also found that using new media at a high level did not translate into an increased demand for democracy.
Liberation from oppression and transition to a non-discriminating participatory government have not been reason enough for South Africans to unequivocally embrace democracy. It seems South Africans' belief in democracy is not intrinsic but more instrumental he said: "the legitimacy of democracy has been performance driven."
However this realisation poses new questions, and suggests that the crucial guardians of democracy are not playing their role. "What is it about the news and media that is not happening? Why is the dog not barking?" he asked.
Hosted by Rhodes University's School of Journalism and Media Studies, the lecture examined the findings of the Afrobarometer, an independent research project, cofounded by Prof Mattes, which is devoted to measuring the attitudes of African citizens towards democracy.
Photo and story by Hailey Gaunt
Source: