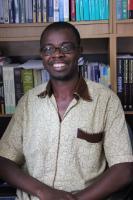 Rhodes > Latest News > 2013
Department of Higher Education endorses Economics Journal
Date Released:
Wed, 6 February 2013 14:01 +0200
The African Review of Economics and Finance (AREF), a brainchild of Associate Professor in Economics at Rhodes University Paul Alagidede has been accredited by the Department of Higher Education and Training (DHET).
As the founding editor, Prof Alagidede is encouraged by the DHET accreditation, which he received in record time.
"Journals have to be in publication for at least three years before they can be submitted for accreditation, and the ASSAf process is getting ever more stringent. It usually takes more than three years to get a three year period of steady state quality.
"To make it through in the minimum time is a real achievement, and a testimony to the high standard of the journal," said Prof Alagidede.
It provides much needed intellectual space for young and established academics to publish their work. AREF features pieces on theoretical and empirical economics, with special emphasis on African economies.
AREF is a general interest economics and finance journal and it features topics including, but not limited to, behavioural economics and decision theory, game theory, general equilibrium theory, contract theory, public finance, financial economics, industrial organisation, labour economics, economic anthropology, urban economics, development theory and the theory of economic mechanisms.
Empirical papers cover topics such as estimation of established relationships between economic variables, testing of hypotheses derived from economic theory, policy evaluation, simulation, forecasting, methodology, econometric methods and measurement.
AREF also welcomes book reviews, opinion pieces and special issues of international conferences and workshops.
The journal is published bi-annually online and in print, carries an average of six papers, and features some of the top names within African economics.
"We've seen a big increase in the number of submissions since the journal became accredited. We have people from all over the world submitting top quality content," Prof Alagidede said, explaining that all articles initially undergo a screening process to establish their suitability.
Papers that pass this initial screening are then subject to double-blind review to establish their quality, and then are edited by the journal's impressive associate editors Dr Franklin Obeng-Odoom, School of Built Environment, University of Technology, Sydney, Australia and Dr George Adu, Department of Economics, Kwame Nkrumah University of Science and Technology, Ghana.
The journal, which is the latest addition to a small but growing literature on African economics, was first conceptualised by Prof Alagidede in 2006 during his years as a PhD student at Loughborough in England. However, it was not until he became a lecturer at Stirling University in Scotland that the idea became a reality. Thus in December 2009, the first issue was published.
It initially started off as a self-funded project for Prof Alagidede after he became increasingly frustrated by attempts to publish African economics content in mainstream economic journals. Prof Alagidede recounted an incident that fired his interest in starting the journal.
In 2007, he received a referee report directing him to submit his article to another journal because the editor had indicated his unwillingness to publish an article that focuses on a small country.
"I was turned down and the editor said that it wasn't because my article was poor quality, but that my subject matter (Ghana) wasn't of interest to the majority of the readership. I knew many other PhD scholars who had struggled to get published and so I started thinking about developing a new journal aimed specifically at young academics and African subject matter," he said.
The journal also comprises an extensive editorial board including internationally renowned intellectuals Prof Augustin K. Fosu, UNU-WIDER, Prof Waaseem Mina, United Arab Emirates University, Prof Yaw Debra, Swansea University, Prof Gavin Keeton, Rhodes University, Mr Ferdinand Botha, Rhodes University, Dr Theodore Panagiotidis, University of Macedonia and Dr Hassan A. Ahmad, University of Bath, among others.
Prof Alagidede, who has been lecturing at Rhodes University since 2011, said that although it was challenging to start the journal, his dedication has paid off with the recent accreditation. "Initially I thought of it as a hobby and it was only last year I realised that it is getting bigger than I thought."
Story and photo by Sarah-Jane Bradfield
Source: