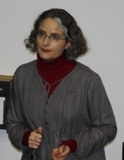 Rhodes > Latest News > 2013
Desperate need for debates around race in South Africa
Date Released:
Wed, 15 May 2013 15:10 +0200
Speaking to her experience of writing the widely critiqued and publicised "How Do I Live in this Strange Place?" (2010) paper, Associate Professor in the Department of Philosophy at Rhodes University, Samantha Vice explained that while her conclusions may be contested, the extent of the responses to her paper highlight the desperate need for debates around race in South Africa.
In the paper, Prof Vice considers the role of white South Africans in contemporary South African society, and ultimately calls for a 'qualified form of silence' on political matters and in the public sphere as the appropriate response.
During her address last week Prof Vice explained how she thought of the paper as opening a space for further discussion, that it was exploratory, personal and tentative.
The eruption of public outrage following calls for white people to cultivate humility and silence given their morally compromised position in the continuing racial and economic injustices of South Africa presented an agonisingly personal and distressing experience for Prof Vice, who is one of few South African-based philosophers to receive as much international academic, media and public attention for such a paper.
In her presentation last week, Prof Vice described the unsettling experience of having her work so widely and publicly critiqued, saying it was an "intensely uncomfortable and shaming experience for me".
She added that the experience, while painful, had prompted deeply personal processes of recognition. "It was only through writing the paper that the sheer moral weirdness of apartheid and its legacy, and of whites still being a beneficiary of that injustice, sank in in a personal and not only intellectual way," Prof Vice said.
She explained that through the process she also realised "how far away we are in South Africa from discussing race and repression in significant ways". She had hoped the rampant debates about the paper might encourage a space for white South Africans to meaningfully engage with their realities and to face the extent of the damage caused by apartheid.
Prof Vice explained that in conceptualising silence she means silence as conscientious care, and not as a failure to listen and engage. She promotes meaningful engagement with other voices (that were not white), as a way of acknowledging responsibility and the autonomy of the oppressed.
While the increasingly depressing state of South African politics seems to call for action not as whites but as moral agents, Prof Vice believes a continual consideration of race will be helpful in such a complex and dynamic country. She thanked her colleagues for encouraging her to write the paper, "dragging it into the public space when I would've preferred to keep it in the private".
Other panellists included Professor Clevis Hadley of Florida Atlantic University, Professor Michael Monahan of Marquette and Mr Mohammad Shabangu, Rhodes University. The panel was chaired by Professor Pedro Tabensky, Philosophy Professor and Director of the Allan Gray Centre for Leadership Ethics.
Story and photo by Sarah-Jane Bradfield
Source: