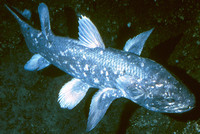 Rhodes > Latest News > 2013
Discovery of coelacanth might have changed course of history at Rhodes
Date Released:
Tue, 19 March 2013 08:30 +0200
THE chance discovery of a strange fish in a trawler captain's nets almost 75 years ago changed the course of history at Rhodes University.
If it wasn't for the discovery of the coelacanth by East London Museum curator Marjorie Courtenay-Latimer chances are the university's renowned ichthyology department and nearby South African Institute for Aquatic Bio-diversity (SAIAB) would not exist today.
Detailing the global media frenzy that followed the discovery – which experts thought had been extinct for hundreds of millions of years – former JLB Smith Institute of Ichthyology director Professor Mike Bruton described it as "one of the great biological finds of the century".
Speaking at Scifest Africa, the Bahrain-based expert said if it were not for a combination of factors the landlocked university would probably not offer ichthyology today. What if captain Hendrick Goosen had not kept the fish? What if Courtney-Latimer had not gone to inspect the catch? And what if a Rhodes chemistry it?
Chances are the first and second coelacanth ever found would be somewhere else.
Housed at SAIAB, the remains of the first coelacanth found in December 1938 were identified by Rhodes' Professor J L B Smith when Courtenay-Latimer sent him a telegram to his Knysna holiday home. He confirmed the importance of the find and famously replied: "MOST IMPORTANT PRESERVE SKELETON AND GILLS = FISH DESCRIBED."
Bruton said his lifelong interest in professor had not identified the coelacanth was sparked when he saw a specimen at the East London Museum as a 10-year-old.
Although rewards were offered and expeditions mounted to find another coelacanth, it took 14 years to find the next one.
The wonders of life undersea are explored in an exciting new addition to Scifest – Water World at the renowned SAIAB facility.
Plans are in the pipeline to celebrate in East London, Grahamstown and other parts of the world in late December on the 75th anniversary of the find.
Source: Daily Dispatch
Source: