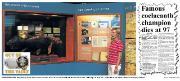 Rhodes > Latest News > 2013
Discovery of famous fish remembered
Date Released:
Wed, 12 December 2012 13:02 +0200
ALMOST 74 years have passed since the discovery of the coelacanth in East London waters astonished the world.
Saturday will mark the day in 1938 when the then East London Museum curator Marjorie Courtenay-Latimer realised that a strange fish netted off the coast could be millions of years old.
Present East London museum curator Mary Bursey said the finding led to many other coelacanth being found around the world.
Until that day it had been believed the coelacanth had been extinct for millions of years as it was only seen in fossils dating back to the age of the dinosaurs.
The coelacanth became considered a "living fossil" due to its apparent lack of significant evolution over millions of years and is thought to have evolved into roughly its current form around 400 million years ago.
On December 22 1938 a then 32-yearold Courtenay-Latimer received a call from Hendrick Goosen, the skipper of an I&J trawler, the Narine, saying that he had caught a strange looking fish.
It was caught in the trawler's net off the Chalumna River (now Tyolomnqa).
On seeing the coelacanth Marjorie described it as "beautiful", said Bursey, who added the coelacanth's natural colour of blue with white spots was rare.
"When Marjorie got to it, it must have been fresh from the water, and still retained its beauty," she said.
She then called Rhodes University ichthyologist, Professor JLB Smith, who quickly realised that the fish that had been caught was a scientific miracle.
The world was astounded at Smith's announcement that a fish from the dinosaur era was still alive and swimming in the sea off East London.
Smith nicknamed it "Old Fourlegs" since it had fins that resembled four legs, making it an evolutionary link between aquatic and land animals.
"Though it was believed to be extinct, fossils had been found but never proof that the coelacanth was still alive," Bursey said.
"There was even a reward out at the time but only 14 years later was another found by Captain Eric Hunt."
The original famous fish, large and majestic, is now displayed in a glass container in the museum for visitors to view. "Somehow the museum managed to keep it here," said Bursey.
"I don't think lending it or giving it away was ever an option.
"People and tourists come and see it and there was even a drunk man who once stormed in demanding to see the fish."
Courtenay-Latimer achieved international recognition for the discovery.
Since then many other coelacanth have been found but East London will always be remembered for its role in netting the first "Old Fourlegs".
"It all started with this specimen here.
"Others have been found and documentaries have been made about it," said Bursey proudly.
Recently a documentary reenacting the discovery was made and the now late Courtney-Latimer was often asked to speak on her discovery until her death in May 2004 at the age of 97.
"The coelacanth was named after her and where it was found - Latimeria Chalumnae," said Bursey.
PREHISTORIC FISH: Mary Bursey of the East London museum points to the coelacanth which was discovered in 1936 by the then East London Museum curator Marjorie Courtenay-Latimer
Picture: Stephanie Lloyd
By Princess Nkabane
Source: Daily Dispatch
Source: