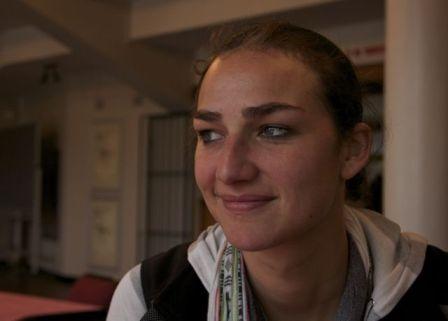 Rhodes > Latest News > 2013
Drama student obtains prestigious National award
Date Released:
Tue, 23 October 2012 10:59 +0200
For the first time since its inception, the prestigious Moira Lister Theatre Award has been given to a Rhodes University drama student. Madelé Vermaak, who is completing her second year of a Master's degree in Directing, was recognised for the body of work she has created throughout her career in drama at Rhodes, and most recently, the performance that marked her directing debut at the 2012 National Arts Festival, Tender.
Veermaak was surprised and delighted by the news, and especially honoured to be selected by such a prestigious group of theatre professionals. "It's them saying 'we love that you have a passion, we support you in your passion'."
The award, which is given to just one student annually, has, until this year, only been granted to drama students from the University of Cape Town. Vermaak's achievement is thus a significant milestone for the Rhodes Drama Department as a whole.
Though Vermaak came to Rhodes to pursue a degree in journalism, she was eager to remain active in dance and theatre. "As an undergrad I was lucky enough to get involved in [drama] works and then discover that this is actually where my passion lies," she said.
The Drama Department has been an ideal place to develop and nurture her talent, said Vermaak. Beyond the crucial skills she's acquired while under the drama faculty, she's also underdone an important process of self-discovery.
"They're small and supportive. I've been very inspired by the department. Everyone is very active and excited about what you're doing," she said.
The decision to pursue a Master's in Directing allowed Vermaak to deepen her understanding of areas of drama she could only scratch the surface of during her Honours year. "Doing my Master's was a chance to really concretely establish what kind of work I was to be making," she said.
Despite this further concentration, taking such a focus has not seemed to limit Vermaak -- her performance interests still range from music and dance to directing and physical theatre.
Though she believes there's something valuable about committing to a single genre as an artist, she thinks it's important to have a wide repertoire, especially in an environment like South Africa. "I like this idea of a total performer, where you nurture everything that you can offer – I want to continue nurturing all sides of myself."
Vermaak is optimistic about continuing to develop as an artist in South Africa. "South African theatre is really exciting, the music industry is building and there are a lot of opportunities to be involved in international works here too. There are more than enough opportunities to explore in South Africa."
Not only does this award boost the career of an emerging artist by flagging her as exceptional, it also offers a financial reward of R10 000. Vermaak hopes to put the money toward extending Tender at next year's National Arts Festival.
The sum will also help with her move to Cape Town following the completion of her degree; while there, she plans to audition for the theatre and graft herself in the music scene with her band The Footnotes. "Next year will be a year of eating out of cans, but I'll be doing what I love."
Photo and story by Hailey Gaunt
Source: