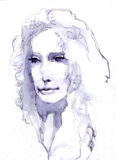 Rhodes > Latest News > 2013
Drifting – Remembering Reza De Wet
Date Released:
Tue, 26 March 2013 10:35 +0200
Rhodes University Drama Department will perform "Drifting", a tribute show to the acclaimed South African playwright, Reza de Wet during this year's graduation week.
"Reza has such an incredible legacy, both within the department, nationally, and internationally," says department HOD Andrew Buckland, "that we wanted to find a vehicle to celebrate her, and mark her passing, appropriately. But how does one do that?
We considered various options - doing an entire work, recreating various scenes. However, that led us down the track of either trying to find the definitive Reza show, or ending up with a variety concert. Instead, we have decided to do what Rhodes Drama does best - a visual and physical response to her oeuvre, and the creation of an original response, or reaction to her as a provocation."
The result is a mixed-media, multicultural, and many-faceted response to her work. An eclectic mix of senior postgraduate students and professional performers has birthed "Drifting" under the curatorship of Rob Murray, Andrew Buckland, and new design head Illka Louw.
"There is a new movement within the department," says Buckland, "with new lecturers and a fresh energy towards making work. All of this plugs into the show that will showcase our strengths and emphasise our belief in collaboration and a shared creativity."
The resultant work is a number of image-driven scenes inspired by various de Wet texts such as "Drif", "Diepe Grond", "Mirakel", and texts for the First Physical Theatre Company such as "Dialogue" and "Unspeakable Story".
"We're pushing the theatricality of the scenes," says Illka Louw, "in order to capture the essence of Reza in image, sound, mood, and atmosphere. In this, we have taken certain theatrical and poetic licences in the weaving together of disparate elements and various manifestations of Reza and women in general and the creation of a magical realism that we believe she would approve of."
"There will be certain areas that will irritate the purists," adds in Murray, "in that we have filtered Reza's texts through the physical imagination of the core cast made up of department staff and senior postgraduates. But what they've all come up with will hopefully lead to a curiosity and intrigue to revisit her texts, or act as an introduction to Reza, and do justice to the complex and amazing artist and woman that she was."
Featuring choreographic input by Athina Vahla and Juanita Finestone-Praeg, dramaturgy by Rob Murray and Andrew Buckland, and performances by Andrew Buckland, Juanita Finestone, Lindsay Reardon, Liezl de Kock, Ilana Cillers, Pumelela Nqelenga, Hannah Lax, Tristan Jacobs, Sifiso Sikhakhane, Levern Botha, Leonard Praeg, and animation by Bianca Binneman, "Drifting" is a not to be missed show for all arts enthusiasts, total theatre lovers, and anyone with a pulse.
All monies made off ticket sales for "Drifting" will go straight to furthering The Reza De Wet Post Graduate Bursary for Drama Students.
"Drifting" performs on the 4th and 6th April at 19h00 and a Student Special Performance again on 9th April at 19h00. The show is PG rated for language and disturbing scenes.
Tickets can be booked at either the Theatre Cafe or in Room 107 in the Drama Department.
For further queries, please contact Robert 046 603 8542 (mornings only)r.haxton@ru.ac.za or the website at:
http://www.ru.ac.za/drama/productions/upcomingevents/
Source: