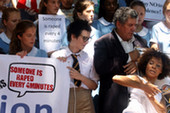 Rhodes > Latest News > 2013
Eastern Cape universities to unite against gender violence on women
Date Released:
Tue, 21 May 2013 08:40 +0200
Four Eastern Cape universities have teamed up together preparing Tuesday 's (May 21) march against gender violence on women around the country.

Rhodes University, University of Fort Hare (UFH), Walter Sisulu University (WSU) and Nelson Mandela Metropolitan University (NMMU)'s academics, staff members, members of the community and students are expected to come out in numbers in a march prepared for respective universities.

The Vice-Chancellors of these universities are united in the view that communities need to reject gender-based interpersonal violence and that the academy is tasked with leading by example and encouraging the communities in which they exist to take a stand against violence against women.

The recent gang rape and disembowelment of the Western Cape's Anene Booysen, 17, and other women who have suffered violence and abuse have brought to public awareness the disconcertingly high incidence of rape and gender-based violence, specifically against women, in South Africa, said NMMU spokesperson Roslyn Baatjies.

"Booysen's murder reflects not only the ubiquity of rape in general, but also the growing trend of perpetrators using rape as a prelude to murder," Baatjies said in a statement.

She added in January Thandiswa Qubuza, a young woman from Fingo Village in Grahamstown was gang-raped and assaulted by eight men. "Thandiswa died after lying in a coma for six weeks. No suspect was arrested for this crime, and there is still no sign that any of the perpetrators will face the hand of justice," Baatjies said.

The NMMU march will start at 12pm at the Port Elizabeth campus, the UFH one at the Alice campus at 12:30pm, WSU one at the Mthatha campus at 12pm while the Rhodes march will start at 2pm at the Cathedral.
Picture caption: March against gender violence.
Pictures: Gallo Images
By Sithandiwe Velaphi
Source: The New Age
Source: