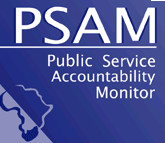 Rhodes > Latest News > 2013
EC education to address teaching issues
Date Released:
Tue, 19 February 2013 08:59 +0200
THE Eastern Cape department of education is set to turn over a new leaf with senior officials promising to do away with poor administrative and learning outcomes in the 2013-14 financial year. The announcement comes after the Daily Dispatch recently reported about a damning report released by Rhodes University-based lobby group, the Public Service Accountability Monitor.
The report revealed poor financial and administrative controls in the department over more than a decade. Poor financial audit and learning outcomes have been a challenge for the department, which has been at loggerheads with unions over teaching jobs resulting in lack of staff in some schools. At a media briefing in East London last week, acting education superintendent-general Mthunywa Ngonzo said the department was on the verge of a new era.
"The department is moving away from theory to action, from policy to practice. We've got a plethora of policies that require implementation. "We are going to institute a sense of urgency in areas of teacher shortages and provisioning and become an intervening government where there is a crisis.
"We are going to be impatient with non-compliance and under-performance and anything that doesn't comply with legislation and make sure consequence management is implemented where there are officials of government who do not do what is expected of them. They must face consequences,"
Ngonzo said. Unveiling the plan, Ngonzo said key priorities to be funded in the 2013/14 financial year included: Improving learning, audit outcomes and conditions of services of employees; Introducing a new procurement model for learner and teacher support materials (LTSM) - textbooks, stationery and furniture; Developing and training teachers; and Increasing involvement of parents at schools. Earlier this year, while announcing the matric results, Ngonzo and education MEC Mandla Makupula launched the plan, "Going Back to the Basics".
The aim is to improve leadership at schools, manage and transform classrooms and prescribed teaching time for teachers, increase provision of resources and information and strengthen authority of head and district offices. Ngonzo said this year's priorities would enhance achievements made in the past financial year.
Funds would be made available for state subsidised pupils, LTSM would be procured earlier than in the previous year and by October all deliveries would be made to schools. He said the department would develop the potentials and capabilities of teachers and other staff. Makupula said the 2013/14 budget of the department was in good standing for the first time in many years because issues involving compensation of employees have been finally resolved. — msindisif@dispatch.co.za
By: MSINDISI FENGU
Source: Daily Dispatch
Source: