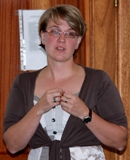 Rhodes > Latest News > 2013
Economic transformation will reduce poverty
Date Released:
Tue, 19 March 2013 11:33 +0200
Dr Marianne Ulriksen of the Centre for Social Development in Africa, University of Johannesburg, said the society must not only concern with inequality but also with poverty, as it is the root cause of many social ills.
Describing extreme inequality as the major concern in South Africa, Dr Ulriksen said the nature of such extensive inequality is that it is also accompanied by extreme poverty in the form of poor educational performance and limited social mobility among a range of characteristics.
Moreover, partly due to high inequality levels, many middle income countries struggle with pervasive problems of poverty and vulnerability.
With an unemployment rate of 24.7 percent and half of South Africans under the age of 34 out of work, South Africa is among the highest in the world for unemployment, alongside Mozambique (60 percent as of 2009), Kenya (42 percent as of 2009) and Senegal (40 percent as of 2007).
As a key indicator of social inequality, unemployment has far reaching effects for countries said Dr Ulriksen.
Dr Ulriksen, whose research interests include comparative politics, political economy of welfare policy development, social protection, poverty and inequality, and comparative country studies in Southern Africa has spent the past decade working and researching in Botswana, Nigeria, Namibia, Tanzania and South Africa.
She provided an analysis of how social protection policies impact on poverty in developing countries and how such interventions may be complimented by economic transformation that benefit the poor and lead to greater equality.
Drawing on both statistical analyses across developing countries and on comparative studies of Botswana and Mauritius, Dr Ulriksen challenged audience members on the nature of the lessons South Africa can learn from other countries.
"By comparing to other countries, we are able to reflect on South Africa's successes as well as failures in addressing poverty and inequality through a mix of social and economic policies," she said.
Highlighting the specific focus on how the social protection system impacts on well-being, the difficulties in linking social policies to economic activities, and the challenges of creating economic transformation that can improve livelihoods and reduce inequality.
Using Mauritius and Botswana as case studies, Dr Ulriksen showed how Mauritius has reached close to full employment through the implementation of various socio-economic strategies including wage compression, the creation of an active labour market, unemployment insurance and generous social spending across classes.
Botswana has an unemployment rate of 17.6 percent compared with South Africa's 24.7 percent, and while there is a notably low minimum wage, the private sector is still struggling to increase employment figures.
Conversely, in South Africa with a high minimum wage, Dr Ulriksen said many individuals are not complying with the required rates, with some key industries taking increasing strain under increasing financial pressures and being forced to close.
As such, Dr Ulrikson said there is a lack of social protection for the majority of working age population in South Africa, and that efforts need to be made in this regard.
"In other countries there are systems that assist when people lose their jobs and this helps them in the interim until they find new employment. This means that if you lose your job your life does not shatter and go to pieces."
She was presenting a paper on Policy solutions to poverty and inequality in South Africa: Reflective comparisons recently.
Story and photo by Sarah-Jane Bradfield
Source: