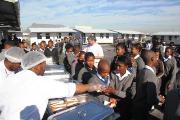 Rhodes > Latest News > 2013
Education receives poor audit
Date Released:
Wed, 13 February 2013 09:15 +0200
PSAM study points to department's financial woes for past 10 years.
The education department should think about having its own anti-fraud unit, according to Eastern Cape lobby group Public Service Accountability Monitor (PSAM).
The Rhodes University-based watchdog organisation has released a detailed study of the department's poor financial management systems over more than a decade.
The Eastern Cape Department Expenditure Tracking Report also offers solutions for provincial authorities to consider to improve financial management in the department and focuses on what could be done better to improve and tighten financial controls.
Education researcher Zukiswa Kota refers to the department's annual reports and budget analysis, treasury reports, the auditor general's (AG) reports and several other legislative documents.
"In the year under review [2011/12], the department has seen several changes and disruptions in operational and strategic functioning which have had implications for financial performance," states Kota in the report. "The auditor-general of South Africa issued the department with yet another disclaimer for the year ended in March 2012."
Kota said the department acknowledges its problems have been long-term. Some of the challenges faced by the department in 2011/12 were:
Suspending the contracts of temporary teachers early last year;
Over expenditure on compensation of employees;
Constant changes of senior leadership;
Introduction of the national task team, which caused power struggles between national government and Bhisho; and
Ongoing independent investigations into alleged corruption, maladministration, forgery, financial misconduct, conflict of interest and payroll fraud of which 70 cases were still unresolved from the 2010/11 financial year.
"The department has a long history of poor audit outcomes. Wasteful expenditure and payments made and unsupported by relevant documentation continue year on year."
Kota said the department needed to strengthen its audit committee, bolster its risk management unit, or introduce a fraud prevention unit.
"There is a desperate need to introduce oversight and financial management mechanisms at districts and schools in light of the changes to the SNP [school nutrition programme] model."
Schools, especially those in rural areas, were battling to rotate suppliers every term as is required by the department because officials were unable to track down expenditure at schools due to lack of capacity and resources.
Kota noted that for more than a decade the department has either received a disclaimer – the failure to submit crucial financial documents to back up payments – or an adverse audit which is regarded as the worst outcome, as the AG could not offer an opinion as financial documents did not fairly represent how the finances had been spent.
Written by: Msindisi Fengu
Picture credit:rabie.co.za
This article was published on Daily Dispatch.
Source: