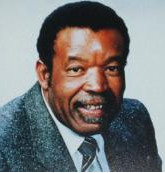 Rhodes > Latest News > 2013
End of road for 'humble, bright rural boy'
Date Released:
Fri, 11 October 2013 11:59 +0200
Dr Cecil Wele Manona, 76, revered Rhodes University scholar, expert Eastern Cape researcher and radio celebrity, died in Nelson Mandela Bay on Tuesday.
He died from stroke-related complications in the St George's Hospital.
Family and Rhodes staff spoke highly of the humble, bright rural boy of the Nala clan who herded cattle and ran wild in Durban Location, near Peddie.
The son of a Methodist minister went on to achieve a doctorate in anthropology at Rhodes where he mentored and lectured students.
He also assisted international and local researchers and civil rights journalists during the height of apartheid security force repression, terror and resistance in the '70s and '80s.
Manona was instrumental in running a feeding scheme, which kept alive thousands of starving, sick, homeless and destitute women and children at Glenmore and other forced removal camps in the former Ciskei.
His behind-the-scenes work played a role in exposing he horror of the Verwoerdian-spawned dumping grounds and led to an international outcry.
Manona leaves his wife, Nobantu, four children – Siyabulela, Linda, Lindiwe, and Lungelwa – and 10 grandchildren. His funeral will be held at the Peddie Community Centre on October 19 at 9am.
By MIKE LOEWE
Article Source: Daily Dispatch
Source:Daily Dispatch