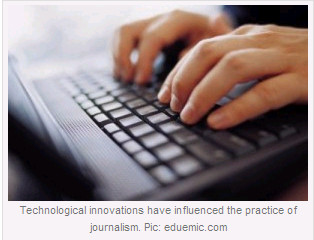 Rhodes > Latest News > 2013
EWN Chief dissects SA Media landscape
Date Released:
Thu, 27 September 2012 16:59 +0200
The changing face of South African media took centre stage on Tuesday evening as Primedia Broadcasting's Kate Katopodis descended on Rhodes University's Africa Media Matrix to deliver a presentation.
Katopodis serves as Editor in Chief of Eyewitness News.
Among those in attendance were lecturers of the School of Journalism and Media Studies, students as well as members of the Grahamstown public.
Katopodis focused largely on new models of media production and dissemination as well as the necessity for journalism students to equip themselves with multimedia skills. "The news desk does not rely solely on one source anymore. We have a Twitter page that we watch and update minute by minute," said Katopodis.
"When I started out, all we had was a pager for news alerts. Now we have Facebook, Twitter, iPhone Apps, mobile sites and much more to create and publish news," she added.
Concerning the issue of multimedia skills, Katopodis noted that "being a multi-skilled journalist is the only way we will survive and prosper".
The presentation included a short video which looked into the daily lives of the EWN team. It focused on the high-paced adventures of the journalists and radio presenters and also how various media platforms are used to create news for wider audiences.
"It is important that any news publication make use of every medium of news production," Katopodis added, as the video came to a close. She finished off with some worthy advice for the young journalists. "It's about being well-rounded and worldly. Read, read, read, I always say. If my six year old knows who Kgalema Motlanthe is, then there is no excuse for any of you."
The same presentation will take place again at 5pm today.
By Tegan Scales
Source: Oppidan Press
Source: