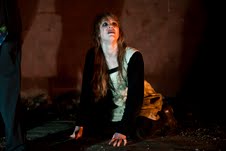 Rhodes > Latest News > 2013
Festival allows MA Drama students to show mastery
Date Released:
Fri, 6 July 2012 15:59 +0200
What could be a better time for students to gain real world experience in performance than during the National Arts Festival?
The Rhodes Drama Masters by Coursework gives students the opportunity to do their practical exam during the Festival through InTranceit, introduced by Head of Department Andrew Buckland in 2011.
Since last year, the weighting of the two-year course has changed to 60% practical and 40% written scholarship, which is seen as a 'reflective conversation' following the July practical exam.
Where the first year's coursework element allows students to read, write, watch and experiment while doing seminars and artistic residencies run by various artists, students focus on the final product in the second year.
Senior Lecturer Alex Sutherland believes the strength of the course lies in its focus on experience. "It is a platform for MA students to test themselves in a real world context. This is where they see what it's like to be semi-professional. Because an MA is a 'mastery of', so that's part of the task."
MA student and first time Festival director Madele Vermaak, who is supervised by Sutherland, feels that the Drama Department has provided a safe space for experimentation and an environment of genuine care and support.
"This is putting everything they've taught us to the test," she says about her MA in Directing. "It allows you the freedom to make mistakes and learn from them," she adds.
The Department selected her ensemble Tender as Rhodes' performance for Student Fest. Sutherland commends Vermaak for tackling a challenging devised work with a large cast which has produced an intriguing, provocative piece of theatre.
Drama Honours graduate Alice Thompson returned to the Department after several years of travelling because of its emphasis on choreography. "I came back specifically for my supervisor, because she is so inspiring and creatively challenging," she says of Juanita Firestone-Praeg.
Because Thompson could not find any evidence in South Africa of her theoretical framework – the democratisation of dance, she decided to create it herself.
Enjoying the opportunity of combining dance with concept and site, second-time Festival choreographer Nicole Theunissen appreciates the opportunity of presenting her own combination of dance and physical theatre in Erasure. "I think it's amazing to have the National Arts Festival as a platform to showcase our final works," she says.
The MA also equips students to produce street spectacles such as Hydralunatics!, an outdoor performance created by Fine Arts graduate Whitney Turner. The Contemporary Performance Studies MA has allowed her to integrate the two disciplines in the form of detailed costumes and spectacle.
Turner commends the Drama Department for assisting MA students in producing their shows at the Festival. "I think it's something other departments can learn from," she says about giving students a public platform.
Along with Thompson and fellow MA student Debbie Robertson, Turner will present a paper based on what she has explored in her thesis at International African Theatre Association Conference in Cape Town after the Festival.
Sutherland feels that each MA student's ability to present her own signature and demonstrate her unique voice with sensitivity and rigour is what makes this year's pieces outstanding.
She adds that the uniqueness of the Department lies in that most MA students teach at undergraduate level, which provides them with the experience and confidence. As a result, many Rhodes graduates are currently teaching at other tertiary institutions such as the University of Pretoria and Wits.
By Ruth Woudstra
Source: