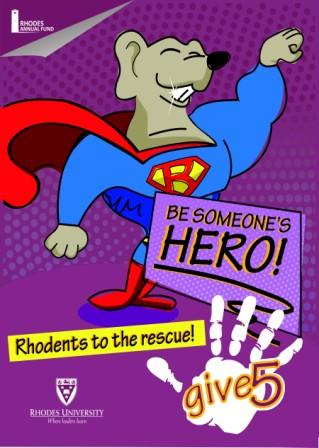 Rhodes > Latest News > 2013
Fundraising campaign by students for students
Date Released:
Mon, 12 November 2012 11:59 +0200
Raising a whopping R44 000 this year for Rhodes students who rely on financial aid, the Give5 campaign is growing from strength to strength as it almost doubled previous campaign totals.
Described as a fundraising campaign "by Rhodents for Rhodents", Give5 was originally launched in 2004, and ran annually until 2009 when it was discontinued due to a lack of ownership. This year saw the re-launch of the campaign, under the ownership of the SRC and the Rhodes Alumni Development office, and saw all 52 residences as well as Oppidans (students who live off campus) taking part.
All the money raised this year goes to the Annual Fund, Pocket Money Fund which was originally started by Dean of Students Dr Vivian de Klerk, and helps students who are on bursaries with R120 per month pocket money to buy necessities such as toiletries. The R44 000 raised by our students this year enables an additional 36 students to benefit from the fund.
The Student Representative Council's (SRC) community engagement representative, Thabo Seshoka said student involvement and ownership form the basic foundation of the campaign. "The whole idea is to get students to take ownership of the campaign, so we are not imposing our ideas. It's about the students coming up with their inspiration and using it for the good of others," he said.
Seshoka also said the continuation of the Purple Thursday tradition, during which Rhodents past and present are encouraged to don purple attire, serves as a unifying practice which connects alumni and current students across the miles and years. "People even wear purple on Thursdays during vacation. It creates a sense of unity and pride among Rhodes student and has far-reaching effects," he said.
According to Alumni relations officer, Ms Terryl McCarthy the campaign is aimed at provoking a spirit of philanthropy in students and provides them with an opportunity to help "one of their own", a central thrust of the campaign.
Staff and students are invited to contribute R5 during the week-long campaigns, which included an archery shoot-out, movie night and table tennis tournament. For Ms McCarthy, this year's significant increase on previous years which averaged R20 000, is due to the renewed effort and interest in the campaign by staff and students who are dedicated to its success.
"Hall administrators really brought the message home to students and we had a lot of involvement from the Deputy Vice-Chancellors who all wore our t-shirts. A lot of people were shocked that some people don't have basic essentials. During the campaigns we pushed the idea that it could be the person sitting next to you that doesn't have what they need. I think students were really receptive to the message," she said.
According to Ms McCarthy, healthy competition is encouraged between university Halls and Residences with a prize for the one that collects the most money. Helen Joseph and Joe Slovo were the winning residences this year and the winning Halls were Founders and Courtenay Latimer
Spot and lucky draw prizes were donated by local businesses and were won by campaigners during the two collection weeks.
By Sarah-Jane Bradfield
Source: