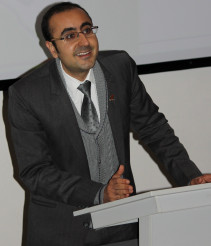 Rhodes > Latest News > 2013
'Getting to Zero'
Date Released:
Wed, 28 August 2013 09:59 +0200
"The economy of this nation depends on you. The university system can be the answer to a pandemic like HIV/Aids – it is uniquely positioned to equip students with the skills and knowledge around HIV/Aids that can make them agents of change within their own families, communities and future workplaces."
This according to Dr Ramneek Ahluwalia, Director of the Higher Education HIV/AIDS Programme (HEAIDS), who was at Rhodes University on 22 August during HIV/Aids awareness week to present on the theme, 'Getting to Zero'.
The national health programme HEAIDS is an initiative of the Department of Higher Education and is undertaken by Higher Education South Africa (HESA), which represents all of South Africa's 23 public higher education institutions.
Dr Ahluwalia, a physician with extensive clinical and allied health care management experience, is a registered Medical Practitioner with the three National Medical Councils of India, Mauritius and South Africa, and has headed various health programmes within these countries.
He also represents in his capacity as the head of Higher education civil society sector within South African National AIDS Council (SANAC), and serves on the board of various governmental and nongovernmental strategic advisory groups.
Dr Ahluwalia said one of the reasons he travelled to Rhodes University was because of his interest in replicating the SHARC model at other universities across the country. "I've studied SHARC and want to support SHARC. One of the reasons it should be successful is because it's a student organisation owning a disease, a health challenge, and saying 'we will fight'," he said.
Dr Ahluwalia said higher education institutions have a key role to play in contributing to effective management and prevention strategies as all health challenges are directly related to education. The crucial role of scientific research and new patents is relatively neglected in (South) Africa, he said, but there is enormous potential in this regard if utilised.
"Let's face this reality, it's the truth, if we don't address it we will never succeed. We need to change it and answers will only come from education. If I was asked how you could fight my answer would be through teaching and learning, research and innovation, and community engagement," said Dr Ahluwalia.
He challenged audience members to consider whether HIV/Aids awareness campaigns such as Love Life have proven successful in light of the depressing statistics, or whether it is time to explore alternatives.
"We need curricula that are related to issues that link subjects with the disease. The higher education sector is the designated place where research on HIV and Aids can and must be advanced for the benefit of South Africa and the world," he said.
According to the latest research, Dr Ahluwalia said there is not a single South African university that is even close to being HIV free. According to statistics, approximately 41% of students have more than one sexual partner per month, and most do not use protection on a regular basis.
He said approximately eight percent of young women are involved in transactional sex with lecturers, adding to the risk. Extensive alcohol and drug abuse is a contributing factor, with approximately 35% of students per month reporting being too drunk to know who they had sex with or whether they used protection. At present, only 27% of students are comfortable with disclosing an HIV positive status.
Within this context Dr Ahluwalia said it is crucial for universities like Rhodes to consider how they can position themselves in relation to this reality and incorporate the university's three pillars into the broader national objectives.
BY Sarah-Jane Bradfield
Source: