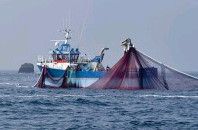 Rhodes > Latest News > 2013
Global project to create benchmark for sustainability labels
Date Released:
Wed, 20 February 2013 10:59 +0200
A new initiative has been set up to create a benchmark for sustainability labels over the next three years.
Called the Global Sustainable Seafood Initiative (GSSI), the project aims to create consensus measures which are hoped will allow easier recognition and comparability of credible seafood certification programs.
Leading companies in the seafood industry and the Deutsche Gesellschaft für Internationale Zusammenarbeit (GIZ), on behalf of the German federal ministry for economic cooperation and development (BMZ), will work to support the effort.
Private project partners, which include seafood harvesters, producers, processors, manufacturers, retailers and foodservices, are: A. Espersen, Ahold, American Seafoods Group, Bumble Bee Foods, Gorton´s, Darden, Delhaize, High Liner Foods, Iglo Foods Group, Kroger, Metro Group, National Fishery Institute, Sainsbury's, Sea Fish Industry Authority, Sodexo, Trident Seafoods and Wm Morrison Supermarkets.
The GSSI will do so by providing mutual recognition and comparability of credible seafood certification and labeling programs globally.
The project will see representatives from the private and public sectors, NGOs, and academia, work together over three years to produce a tool — using what it describes as a comprehensive, consistent, transparent and globally accepted benchmarking approach — that will advise the buyers and suppliers on programs that they can be confident verify sustainable sources.
"The tool will measure conformity with a mutually recognized set of indicators considered critical for credible seafood certification and labeling programs, based on, at a minimum, the FAO guidelines for eco-labeling of fish and fishery products from marine capture fisheries, and FAO guidelines for aquaculture certification," Herman Wisse, sustainability consultant for GSSI, told Undercurrent News.
"By comparing programs against the same agreed set of criteria you can also compare their relative performance towards each other. However, the tool will not measure one program directly to another program," he added.
It is hoped the GSSI will contribute to a reduction of duplication and redundancy, and thereby reduce costs, as well as increasing the affordability of effective sustainability standards in the global seafood supply chain.
"If you refer to sustainability, what do you mean? A certification program is much more than the sustainability criteria it sets for a fishery or aquaculture operation," explained Wisse.
"A credible certification program needs to have a proper governance, assurance system, standard setting procedures etc. All these aspects are described in the FAO Guidelines. The GSSI will benchmark all these aspects of a program, which will ultimately tell something about the credibility, robustness and efficiency of a program. A good parallel would be the GFSI program for food safety and the GSCP program for social audits."
The GSSI will be led by a steering board made up of representatives from companies, NGOs, the FAO and GIZ. Kevern Cochrane of Rhodes University, South Africa, will serve as independent chair.
"GSSI is an exciting and powerful initiative," said Cochrane, in a press release sent to Undercurrent.
"By bringing together major companies in all aspects of the seafood business and a wide range of other stakeholders concerned about the future of our seafood resources, the initiative can ensure that consumers are able to buy affordable products with confidence, knowing that they are playing their role in helping to ensure sustainable seafood production," said Cochrane.
Source: Undercurrent News website
Source: