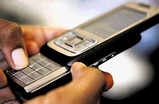 Rhodes > Latest News > 2013
Grahamstown launches cell project
Date Released:
Mon, 3 June 2013 08:59 +0200
Makana Municipality and Rhodes University have joined hands in a project to use cellphone technology to improve communication between residents and the municipality.
The municipality and university signed a memorandum of understanding (MoU) on Friday in terms of which they will now roll out a cellphone application called MobiSAM that connects residents and municipal officials.
MobiSAM will allow residents who register to use it to voice concerns and allows the municipality to respond and give updates on issues like water or electricity cuts.
It is hoped the project will improve service delivery and accountability in Makana through increased citizen engagement in local government, said acting registrar for Rhodes University Professor Dave Sewry.
Although the application can be used to deal with any service delivery problems, it is being piloted mainly on the thorny issue of water provision and quality in the municipal area.
Grahamstown has long battled water outages that have left residents feeling helpless and angry.
Municipal manager Dr Pravine Naidoo yesterday said residents held many negative perceptions about the municipality as it had failed to communicate effectively and efficiently.
"MobiSAM is a very innovative concept where town and gown – the municipality and the university – are pooling their resources to make the community a better place to live by using information technology to our best advantage, to ensure overall quality of life for residents is enhanced.
"I am very excited that Rhodes has taken the initiative to pilot this project with the noble objective of active citizen participation in the affairs of the municipality."
An active and empowered citizenry kept a municipality on its toes.
Naidoo revealed that it would be the first step in the municipality's move towards e-governance which would include a complete redesign of its website where residents could query municipal accounts online, and access and submit forms online, including building plans.
Sewry, who signed the MoU on behalf of the university, was thrilled the project could now begin in earnest. "Communication is going to be what makes or breaks us."
Project leader and Rhodes computer science associate professor Hannah Thinyane said June would be dedicated to training municipal staff in the use of MobiSAM and rolling out the project in general.
"In July we will be up and running."
But she said while the project was technology driven, it would rely on people to make it work.
Naidoo said he hoped the project would also be the first step in resuscitating a strong relationship between the university and municipality for the betterment of all who lived in the municipal borders.
"We have common objectives. We want to see the overall quality of life of all our residents enhanced."
He invited Rhodes' academic departments to use Makana Municipality as a laboratory for projects and programmes.
Residents can participate in this project by registering with MobiSAM at http://mobisam.net/user/ on a computer or cellphone.
By ADRIENNE CARLISLE
Source: Daily Dispatch
Source: