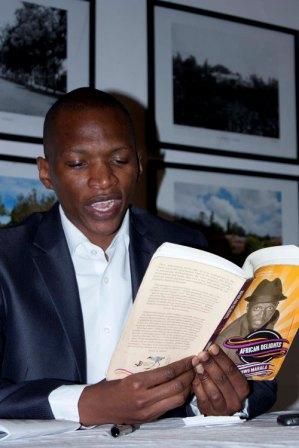 Rhodes > Latest News > 2013
Grahamstown writer delights readers with new collection
Date Released:
Tue, 10 July 2012 10:59 +0200
Amid the flurry of Festival artists and visitors to Grahamstown, one writer has returned to his hometown to launch a new short story collection, entitled African Delights.
"I wanted to create something that's appetising, that's delightful to consume," said Siphiwo Mahala at the Eastern Star Gallery launch last week.
"There must be a reason for somebody to leave The Bold and the Beautiful to read this book. The effort I put there is to make sure it's captivating," he added.
The collection comprises four trilogies starting in Sophiatown in the 1950s, with two responses to The Suit by legendary short story writer Can Themba.
In The Suit Continued, Mahala explores the untold story of the man who jumps out of the window in Themba's tale. The story has been published locally and internationally six times and celebrates its tenth anniversary this year.
Extracts from The Suit Continued and The Lost Suit drew much laughter from the audience, which included one of Mahala's sisters, his uncle, friends and well-known writers and poets. "I've done many book launches before, but this one is very different, very emotional," said Mahala.
Grahamstown is the setting for two stories in the second part of the book, which takes place in the emergency years of the 1980s.
In White Encounters, a young boy experiences a tooth extraction, his mother's job loss as a domestic worker because she takes her son to her employer's house, and his father being accused of stealing a car – all in one day.
Although this is the most autobiographical part of the collection, Mahala explained that he always recreates reality in his stories. "I take lived experience and combine it with imagination," he said.
Mahala, who did the Institute for the Study of English in Africa (ISEA) Creative Writing course in 2001, sees it as a fundamental stepping stone in his writing career.
"If I didn't do the course, I'd still be thinking about writing… they didn't teach me how to write, but they gave me confidence in my work and courage to share it with wider audiences," said Mahala, who learned the importance of feedback, and has applied it ever since by working with other writers.
Crystal Warren, senior researcher at the National English Literary Museum (NELM), met Mahala during the course and recalled in her introduction of the writer, not being able to give any negative feedback on Mahala's stories then.
She said that the new book is a delight to read. "I think it's the best short story collection I've read in a long time," she said. "It's the kind of book you want to read really quickly and then go back and read slowly so you can savour every phrase."
By Ruth Woudstra
Photo caption: Grahamstown writer Siphiwo Mahala, who is the Department of Arts and Culture Head of Books and Publishing, returns to Gahamstown to launch his new collection of short stories entitled African Delights.
Source: