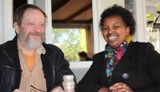 Rhodes > Latest News > 2013
Grocott's scoops up two big awards
Date Released:
Thu, 30 May 2013 14:20 +0200
It's a brand new era for Grocott's Mail, the oldest newspaper in South Africa. Not only does this grand dame of community papers turn 143 this year, but it now boasts a new look and, as from last week, will be published once a week on a Friday.
In keeping with the celebrations, the paper was one of only three to be named as the best community newspaper over five years old at the Media Development and Diversity Agency (MDDA)/Sanlam awards ceremony, which was held earlier this month.
Further, Avuyile Mngxitama-Diko, a Grocotts journalist, was a finalist in the Hard News Category.
Mr Steven Lang, who has edited Grocott's since 2008, feels very positive about this new direction and is proud of Ms Mngxitama-Diko for how she manages her beat: covering municipal matters.
"The great thing about Grocott's is that everyone works as a team. It's not as competitive as other bigger newsrooms," says Ms Mngxitama-Diko. She especially appreciates how Mr Lang is approachable as editor, as she often asks his advice on hitting snags.
"Avuyile is a fantastic reporter- she gets all the information that is necessary and is able to write critically about issues without being antagonistic. As a specialist in municipal coverage she often writes article that are highly critical of officials but in a fair and dispassionate way, so that the next day, when she goes back to City Hall, she is always received with a smile."
"She has even been accused of micro-managing the municipality," he says, tongue-in-cheek. "So I think the municipality would do really well if they would only listened to her." To which she replied that she has had some of the municipal officials joking that maybe she should set up an office at City Hall.
"I am always happy when a story comes together like I imagined, or when surprises happen close to deadline. It's always gratifying to see my name in print, for every journalist, it's a dream," she says.
The criteria for entering the awards included details such as layout and structure, a well-designed front page and news value in terms of the regional market and content.
The Head of the School of Journalsm and Media Studies at Rhodes, Prof Larry Strelitz, says "As a community paper running on a shoestring I think they are doing a good job, especially since they face the sometimes tricky issue of appealing to a divided community.
"We want Grocott's to be a mouthpiece, a space where communities peak to each other and enter each other's worlds. As a Journalism school, we give a lot of attention to Grocotts.
"While Grocott's is ultimately owned by the University, and which serves as an experiential training project, the paper is not a mouthpiece for the University or the school, and we respect that."
Prof Strelitz says one of the challenges is matching the different rhythms between the Journalism students, who have other courses to attend, and the rigours and deadlines of the newsroom.
"Usually, experiential learning provides a safe space to make mistakes but in the daily workings of a newspaper there is very little room for that." He says that it's a great learning curve for them and they often only fully realise all the skills they acquired when their time at Grocott's has ended.
"The bread and butter of the paper is news, and as we all know news changes all the time," says Mr Lang. "We keep adjusting and tweaking things here and there, to make sure we keep our readers interested and happy."
He also considers it a great asset to the paper that young journalists get to cut their teeth in the Grocott's newsroom, as it brings fresh ideas to the table.
By Anna-Karien Otto
Source: