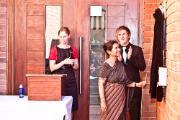 Rhodes > Latest News > 2013
Hamba kahle Amina
Date Released:
Thu, 31 January 2013 17:20 +0200
Rhodes University pays tribute to struggle stalwart and anti-apartheid activist Mrs Amina Cachalia, who passed away today (31 January) at the age of 82.
Mrs Cachalia was one of the courageous South African women who took part in the historic 1956 Women's March against pass laws.
As a member of the ANC, in the early 1950s, Cachalia worked hard to make the Defiance Campaign a success by distributing leaflets, making home visits and recruiting volunteers. She was arrested and sentenced to 14 days in Boksburg Prison for her participation in the Germiston March.
She was particularly concerned about the oppression of women. This concern led her to play an instrumental role in launching the Women's Progressive Union in 1948, an organisation that aimed to make women financially independent.
In 1954, she took the lead in launching, together with other leading women of the movement, the Federation of South African Women (FEDSAW) of which she became Treasurer.
FEDSAW's immediate objective was to oppose the proposed extension of pass laws to Black women, a campaign which culminated on 9 August 1956 in a national march of 20 000 women of all races to the Union Buildings to present their petition against pass laws – a day celebrated in South Africa as Women's Day.
In March 2012 Rhodes University honoured Mrs Cachalia and named one of its student residences located in the Desmond Tutu Hall, after her. She was honoured for her inspirational and extraordinary life.
The students of Amina Cachalia House wrote last year: "We have proudly and without hesitation chosen to name our residence after Mrs Amina Cachalia. As a residence we pledge:"
To look beyond ourselves as individuals and use our gained expertise to make a difference in our community.
To not allow our fears to cripple us in the face of adversity but to use our fears as an opportunity to be courageous and build character.
To not be ignorant to our diverse races and cultures but to embrace them and cultivate a genuine interest in our shared and individual heritage.
To foster an environment where young girls can leave as woman who are confident in their abilities and whose characters are built on the foundations of integrity, self-respect, and humility.
Speaking during the naming ceremony, Rhodes Vice-Chancellor, Dr Saleem Badat said: "Amina Cachalia House takes the name of a woman who embodies the qualities of selflessness, humility, compassion, courage, and determination."
Rhodes and the students of Amina Cachalia House have pledged to keep her memory alive.
Photo by Judith Doubell
Source: