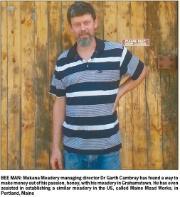 Rhodes > Latest News > 2013
He is the bees' knees
Date Released:
Tue, 18 December 2012 19:00 +0200
WHO would have thought having your bicycle stolen could lead to an unexpected venture in the honey industry. But that is what happened to Dr Garth Cambray, the managing director of Makana Meadery in Grahamstown.
Born in the Karoo town of Burgersdorp, Cambray, now 36, moved to Grahamstown in 1976. He started a three-year BSc degree in 1995, followed by a BSc Honours degree in which he specialised in the production of mead. Cambray then obtained his PhD.
"The PhD study was to demonstrate that there was value in mead and that it had a triple bottom-line effect and a sustainable concept," he said.
During his second year of studies in 1996, Cambray's bicycle was stolen from outside the university's chemistry lab.
Wanting to replace it, he started working for Rhodes University under Professor Randall Hepburn.
Hepburn was conducting research into bees.
And that was how Cambray became all abuzz about beekeeping.
"When I started to keep bees [at home] they got stolen by people who wanted to make Iqhilika."
Iqhilika is a Xhosa word for mead — a fermented honey beverage.
The production of Iqhilika gave Cambray an idea for his PhD research.
"The traditional recipe was not safe, so part of my research was to find ways of making it safe and hygienic."
Cambray also built a meadery, a winery that produces honey meads, as part of his research.
His passion for bees and mead led him to using the meadery as a business in 2001 with the help of two other Grahamstown residents, Vuyani Ntantiso and Dr Winston Leukes.
Leukes has since died and Ntantiso emigrated to the US.
Since 2005, Cambray has worked with I belie' Grahamstown resident, Sindi- what I swa Teyise.
Cambray says Teyise has been integral to and a I the growth of the meadery as consc well as their Swiss entrepreneur, Eric Rueg Meir, who assisted with funding.
The seed funding also came from his parents, Jim and Eve, and Rhodes University.
At the meadery, where six types of mead are produced, beekeepers are trained. The meadery then purchases the honey from them to make the mead. Cambray says the Makana Municipality has started funding the training of five beekeepers. The mead is sold throughout South Africa and is also exported to the US and Switzerland.
"We bring foreign exchange through Grahamstown inle in to rural economies by do — and buying the honey from 1 hands them," Cambray said. ;lean "In this way the rural arence eas and the local economy are developed."
From producing 2 0001 of mead in the first year of operation, the meadery can now turn out about 30 0001.
Cambray says the turnover has improved considerably because of exporting.
But it was not always easy and is still challenging, he says.
"There have been constant obstacles. We had to apply for a licence to make and sell mead from the Department of Agriculture and the liquor board and it took 2 and half years, after we were told that it would take six months.
"We couldn't produce during that time and had to pay rent and other services. We lost a lot of money."
Cambray says the meadery lost out on a R600 000 grant from the Department of Trade and Industry because of a "liquor licence hiccup".
Cambray, who is also exploring wind farming in Grahamstown, says he worked on other projects in countries like Mozambique and India.
"These governments made it easy for businesses to start."
Cambray says he plans to turn the meadery into a hive to also focus on tourism.
"I believe in what I do - and in dirty hands and a clean conscience," he says. ' I believe in what I do - and in dirty hands and a clean conscience
Caption: HOW I MADE IT: GARTH CAMBRAY BEE MAN: Makana Meadery managing director Dr Garth Cambray has found a way to make money out of his passion, honey, with his meadery in Grahamstown. He has even assisted in establishing a similar meadery in the US, called Maine Mead Works, in Portland, Maine
By Prudence Mini
Source: The Herald
Source: