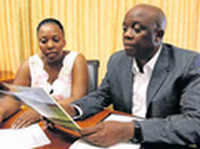 Rhodes > Latest News > 2013
Honouring the legacy of Makana
Date Released:
Fri, 18 January 2013 10:59 +0200
Spirit of 19th century Xhosa hero coming home
THE descendants of the late 19th century AmaXhosa soldier, Makhanda Gwala, known as Makana Nxele (lefthanded) will finally have closure knowing his spirit will be brought home from Robben Island where he died almost 200 years ago.
The great warrior who fought in the battle of Grahamstown in 1819 drowned off Robben Island in 1820 while trying to escape his banishment.
His family pleaded with local government to bring his spirit back to the Eastern Cape after 193 years of searching for his remains.
The initiative received support from the National Heritage Council (NHC) and Amathole District Municipality and will form part of the human rights month celebrations in March.
"This has been a painful experience not only for the family but for AmaXhosa … when he escaped he was never seen again and his remains were never found," said family representative Monde Mkunqwana during a previous interview with the Daily Dispatch.
Mkunqwana who is married to one of Makhanda's great-great granddaughters said that to bring back the spirit, traditional rituals would be performed on Robben Island.
Traditional healers would talk to the ancestors from where he launched his boat asking for the release of his spirit.
Mkunqwana said a sacrificial animal would be slaughtered in the home village of Tshabho near King William's Town.
Chief executive of the NHC, Sonwabile Mancotywa, said the initiative was in line with the NHC's mandate as an implementing agent entrusted with preserving, protecting and promoting the heritage of South Africa.
He said the role played by Makhanda as a freedom fighter was immeasurable.
"His spiritual repatriation will bring closure to the pain his family and community went through for more than 193 years," said Mancotywa.
He said Nxele was recognised as an icon through his leadership and involvement in the wars of dispossession.
Mancotywa said the NHC had already started the process of recognising and celebrating him as a hero.
A book by Professor Julie Wells was supported by the NHC and had already been published.
"The NHC also commissioned a documentary on Makhanda which is currently a work-in-progress," he said.
Mancotywa said a stakeholder meeting in East London yesterday agreed the event would be held over three days and that it should be dignified, educational and befitting the role Makhanda played.
The Makana Municipality in Grahamstown is named after him.
On Robben Island, political prisoners used to play soccer under the banner of Makana Football Association. The navy has a frigate named after him and there is also the Makana Ferry at the Nelson Mandela Gateway.
Caption; RESTORING DIGNITY: Tembisa Kubukeli, left, of Amathole District Municipality with the CEO of the National Heritage Council Advocate Sonwabile Mancotywa
Picture: SINO MAJANGAZA
Story by: GCINA NTSALUBA
Source: Daily Dispatch
Source: