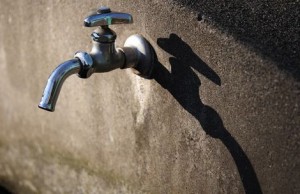 Rhodes > Latest News > 2013
How water outage went from incident to crisis
Date Released:
Fri, 22 March 2013 10:54 +0200
Before the prolonged public discontent, before technical faults with water supply pipes and before Rhodes University's statement in reaction to recent water outages in Grahamstown – there was a deep-rooted problem.
When a governing institution cannot keep its constituents in the know about deficient basic services, there are always going to be issues.
Let's take a look at the bare facts: The water supply went out; communication lines dried up along with it; frustration fermented.
Instead of detailed updates through a clear line of communication, members of the public and organisations had to rap the proverbial knuckles of Makana Municipality in a frenzied attempt to squeeze a response out of them.
If we backtrack a little, we can trace this incident to Thursday last week when issues with the Municipality's piping systems left Grahamstown's water supply compromised.
The university's manager of grounds and gardens Mark Hazell went as far as to personally visit the Waaineck Water Purification Plant in pursuit of an understanding of the situation which was not forthcoming from Makana. "Water is being diverted from the Botha's Ridge storage to the western part of town," said Hazell in Monday's communication.
Not a word from Makana Municipality.
Tuesday saw a brief explanation on the municipality's website disappear as swiftly as the faint hopes many might have held about the water supply returning to normal.
It is through the university's internal channels that light was shed on the burst pipe which was being attended to – not Makana Municipality.
It is through the efforts of Hazell that Port Elizabeth engineers came to be known as the designated repair personell – not Makana Municipality.
In the midst of all this, inconvenience morphed to restlessness as the thousands of Grahamstown residents were left to rue the lack of information from the relevant channels.
This is not to say that an explanation from Makana might have completely quelled all discontent, but it surely would have put things in perspective and, at the very least, provided a time frame upon which some sort of resolution could have been expected.
By Wednesday – almost a full week since the start of the problems – Rhodes weighed in on the startling lack of availability of the stakeholders: "The Municipality has failed, despite undertakings made in this regard, to provide a solution to the problem. During these recent water outages, the University has been unable to make contact with the senior officials of the Municipality," read a statement on the university's website.
While electricity shortages saw South Africa experience rolling blackouts back in 2008, Makana Municipality left many in the dark regarding the details surrounding their latest gaffe.
Water is an essential basic service. Sustenance, sanitation and hygiene are but a few of the many functions it fulfils and the public cannot be forced to fend for itself in efforts to understand what may or may not have gone wrong at municipal level.
Quite simply, the Municipality needs to realise that this outage incident was allowed to reach crisis proportions, thanks in no small part to the silent treatment endured by the Grahamstown public. There lies the problem and it must be purged if solutions are to be truly sought.
Written by: Tyson Ngubeni
Picture credit: Creative Commons
This article was published on Oppidan Press.
Source: