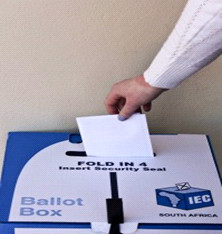 Rhodes > Latest News > 2013
IEC running SRC elections
Date Released:
Wed, 22 August 2012 14:59 +0200
In a move that Student Representative Council (SRC) Liaison Officer, Eric Ofei, said was intended to "improve the image of our SRC", this year's SRC elections were run and monitored by the Independent Electoral Commission (IEC), the same body that runs South Africa's national and municipal elections.
SRC elections have ordinarily been monitored by members of the previous SRC body. Due to new amendments to the SRC Constitution, however, newly elected officials will have to spend a period of time shadowing the person whose portfolio they will be taking over. Ofei, a former SRC President, said that because of this "we [the SRC] felt it was very important that the outgoing SRC stays out of election controversies".
Thami Mraji, IEC Provincial Electoral Officer of the Eastern Cape, confirmed that his office had been contacted by Rhodes and had agreed to run the SRC elections. Mraji said that the IEC was committed to running a "free and fair" election in accordance with its "policy of promoting electoral democracy".
Mraji also said that part of his organisation's role was to help determine an election timetable, to train voting staff, to deploy IEC staff as presiding officers at electoral stations and to conduct the elections in accordance with the SRC Constitution.
Ofei noted that as part of the SRC's attempt to improve its image they had established the Inauguration Ceremony at which candidates will be notified of the results for the first time and winners will be sworn in. "New councillors should be inducted with an appropriate ceremony to impress upon them the seriousness of their undertaking," he added.
The new SRC will be announced at the Inauguration ceremony this evening (Tuesday 21 August).
Story By Stuart Thembisile Lewis
Picture By Kirsten Makin
Article appeared on The Oppidan press website on 21 August 2012
Source: