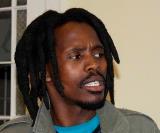 Rhodes > Latest News > 2013
In the shadows of his own creativity
Date Released:
Mon, 19 August 2013 10:33 +0200
He may have designed the South African Democratic Teacher's Union (SADTU) logo, the logo of the House of Traditional Leaders in the Eastern Cape, the 2004 South African Games logo, and contributed 70% to the design of the South African flag, but Mr Thembani Hastings Mqhayi remains unknown.
This is the fate of many black South African artists, according to Mr Bandile Magibili, a Sterkspruit-born creative artist and graphic designer who spoke at Rhodes recently about his first publication entitled '2 B BLACK'. The book tells Mqhayi's story through an interpretation of his paintings.
"We have got to change the toxic attitude of honouring artists after their death," said Mr Magibili, who bemoans the fact that black artists are undermined and forced, like Mqhayi, "to live in the shadows of their own creativity."
"We should not apologise for being black and creative," he said.
He believes that the media influences the way we think about artists negatively. "There are no art columns in magazines, let alone art programmes on television, which are mediums of major influence to artists. We are all seen as potential soccer players, actors and musicians."
Conversely, he believes that even if artists like himself make headlines on major media platforms, there is no positive feedback from the institutions that claim to be empowering the youth.
"Receiving only a phone call from them would be a luxury. One thing is apparent – the "membership card" syndrome is the latest version of segregation and acid destroying the beautiful face of my country," he said. The government, adds Mr Magibili, has frustrated him as an artist yet taught him tricks to live independently of it both in thinking and in practice.
After meeting Mr Mqhayi, who assisted Mr Magibili's graphic art in getting exposure, he wanted to share his personal experiences. Mr Magibili also felt compelled to document and share the paintings of the neglected art practitioner and little-known artist. Particularly the fact that Mr Mqhayi's contribution to the creation of the South African flag, as well as his vision were not reflected in the media.
When Mr Mqhayi was finally convinced to share his regret about this with Mr Magibili, he expressed his concern that in the final presentation of the South African flag design, submitted by various artists, his contribution to the Y-shape in his designs, influenced by the Jamaican flag, had not been acknowledged.
"I don't need money as compensation," Mr Mqhayi said, "but an acknowledgement from the artist who took all the credit for the design or a retraction of my contribution."
During the lecture, Mr Magibili explored several of Mr Mqhayi's paintings, as chosen by the audience. This was followed by questions from the audience and a vibrant debate. As Mr Magibili's rationale for writing the book was largely based on his personal connection with the black art struggle, Mr Mqhayi as, well as his own sense of blackness, several audience members wanted to know more about his definition of the concept.
One audience member asked whether it was a case of there being one blackness, or several blackness-s. "I am not an expert of blackness," he replied, "but my society enforces me to know I am black, therefore I express the realities of black artists and how it feels to be a black artist."
When asked about his notion of blackness in terms of focusing on poverty and struggle, which excludes black people who have accumulated wealth since 1994, he replied that many of us are still suppressed and mentally defeated, because sometimes we ignore things of vital importance about our own blackness, such as our customs – our rituals included.
Mr Magibili's objective, therefore, is not as much to define blackness, as to reflect on his personal narrative through Mqhayi's untold story and through publishing '2 B BLACK', he pays homage to still-living unsung heroes, something that is long overdue in our country.
Photo and story by Ruth Woudstra
Caption: Mr Bandile Magibili speaks about his first publication entitled '2 B BLACK' at Rhodes recently.
Source: