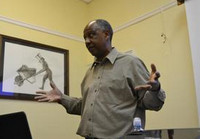 Rhodes > Latest News > 2013
"I want to put the ghost of targeting white males aside"
Date Released:
Mon, 26 August 2013 12:59 +0200
"I want to put the ghost of targeting white males aside. This has never been the approach and it has never been about black and white… No one asks about the dearth of female judges."
This according to Advocate Dumisa Ntsebeza, a South African lawyer and member of the Cape Bar, and spokesperson for the Judicial Service Commission (JSC) who was at Rhodes University recently to share his views on transformation of the judiciary.
Adv Ntsebeza's presentation was entitled 'Transformation of the Judiciary in South Africa: Problems and Prospects' and was hosted by the Faculty of Humanities and the African Humanities Programme as this year's Marikana Massacre Memorial Seminar.
Following the public resignation of senior advocate Izak Smuts in April this year amid disagreement on the transformation of the Bench, Adv Ntsebeza has been outspoken on the topic of transformation.
In a discussion paper titled 'Transformation and the Judicial Service Commission', Adv Smuts complained that white males were being unfairly overlooked for judicial appointment. He reportedly said there existed, "a very real perception in certain quarters that the JSC is, in general, set against the appointment of white male candidates except in exceptional circumstances".
Recent findings suggest that of the 473 senior counsel from whose ranks candidate judges are selected, only nine were black women. Of the nine women, only four were African. According to Adv Ntzebeza, "this is not just a problem for lawyers and judges – it's a problem for society."
Current quota requirements are not only unattainable, Adv Ntsebeza said, but are also "insulting and condescending". "Equality must have meaning… we are not going to get the balance in numbers in the legal profession or in any other profession in South Africa. When we talk about a judiciary that must be transformed the question is 'from what to what'. When white males are not recommended it is perceived that you have a problem with that particular group. It [transformation] is never going to be an easy thing," he said.
Commitment from established advocates and judges to assist younger (black) colleagues in gaining the necessary experience required to be promoted to the Bench is a crucial factor in achieving necessary transformation, Adv Ntsebeza said.
He explained that in order to be promoted up the ranks, experience is required and this can only be gained by senior colleagues 'investing' in more junior ones and giving them experience by asking them to assist with their cases.
In interviewing advocates for a seat on the Bench Adv Ntsebeza said he focuses on whether the individual in question has prioritised this element.
"Either you have a good reason for not giving black or female advocates and lawyers opportunities to assist you or you have none. I want to know you have convinced local firms they are investing in their future by bringing blacks on. It's all about giving people opportunities. We must persuade each other as members in society that it's the right thing to do," he said.
Adv Ntsebeza is also the Chairperson of the Desmond Tutu Peace Trust, a Trustee of the Nelson Mandela Foundation and is an internationally recognised public speaker and author.
By Sarah-Jane Bradfield
Source: