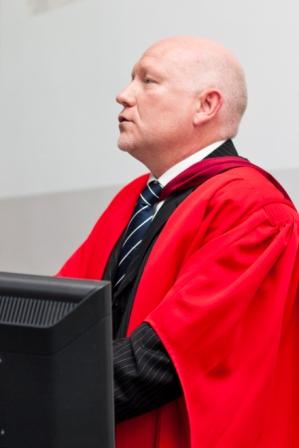 Rhodes > Latest News > 2013
"Journalists need to listen"
Date Released:
Tue, 25 September 2012 12:59 +0200
The roles and responsibilities of journalists and the media in post-apartheid South Africa came under the spotlight, Professor Herman Wasserman shared his view that a willingness to listen and to become self-reflective, presents an effective way forward for journalists who aspire to deepen the freedoms of democracy.
Prof Wasserman, a Professor of Journalism and Media/Cultural Studies and Deputy Head of School of Journalism and Media Studies at Rhodes, was presenting his Inaugural Lecture last week entitled: "Journalism in a New Democracy: the ethics of listening".
Traditionally, the presentation of an inaugural lecture follows the University conferring the status of full professor on an academic.
"To view human life as sacred means to look for the ways that we are connected, interrelated and interdependent," he says.
The ethics of caring, frowned upon within the journalistic paradigm of professionalism and detachment, can lead to a substantive increase in the dignity of the marginalised and enable real engagement across the segmentations of race and market.
Such an ethical system would, says Prof Wasserman, "require a pro-active intervention by journalists into society, to try and change it to what it might become, rather than just mirroring it as it already is."
He explained that news was a contested discursive space, and his experiences led him to question what could be expected of journalists in a post-apartheid era, and, in turn, what could be expected of journalism and media studies scholarship?
The transition to democracy in South Africa has not been without its critics, with the argument that an "elite transition" took place.
He outlined the concept of racial transformation in terms of media ownership and editorial management, while the media remains governed by a market which divides audiences according to income and social position.
South African political scientist, Prof Steven Friedman echoes this with his observation that mainstream media continue to provide a very narrow view of the reality within South Africa today, essentially, a "view from the suburbs."
This gives lie to the idea of journalism as the defender of public interest; in a country like our own, the public is too fragmented to be able to hold credence as a single entity.
He asks, what do we expect of journalism in the context of a democratic albeit unequal country? The drive within the media to 'do no harm' can result in a lack of vision for how journalism could also 'do some good'.
Speaking from a background of normative theory, he used the recent shootings at the Lonmin mine in Marikana to illustrate the complicated issues surrounding the alignment of journalism with power.
This pairing, he explained is a difficult one to challenge, with the questions of where journalists should stand and where and when they should make a stand being contested ground.
Often defended through an appeal to the professional journalistic tenets of 'objectivity', detachment' and balance, the tendency of the media to reflect the agenda and values of the authorities raises questions about the notion of unbiased reporting.
His research into media ethics has revolved around the question of finding alternative norms to aid in facilitating change in a new democracy, and this work has led him to a so-called protonorm, devised by Christians and Nordenstreng, which puts the respect of human dignity, and the notion of an 'ethics of listening' at the heart of principled journalism.
In practice, this translates into taking people's stories seriously and viewing each individual as a dignified human being regardless of social standing.
By Jeannie Mckeown
Picture by Desiree Schirlinger
Source: