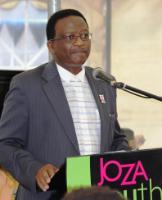 Rhodes > Latest News > 2013
Joza Youth Hub officially opened
Date Released:
Mon, 25 November 2013 14:00 +0200
In an effort to provide a safe and stimulating environment for Grahamstown youths various local organisations have joined together, with the support of Rhodes University and ABSA, to establish the Joza Youth Hub, a central educational facility aimed at facilitating the holistic development of local youth. The Hub was officially opened last week.
According to Dr Sizwe Mabizela, Rhodes University Deputy- Vice Chancellor: Academic and Student Affairs, the Hub has a crucial role to play in encouraging local youths to embrace a love of education and reach their potential, many of whom are being failed by poor education.
"We cannot give up on our young people. There is no shortage of ambition in this town but there is poverty of opportunity. This centre has an important role to play and I hope you will all play some role in encouraging growth and development, and inspiring hope in our young people for what can be and that they can start to re-imagine and think differently about themselves," he said.
Ms Diana Hornby, Director of Community Engagement at Rhodes University said, members of various local organisations started a conversation in 2010 about what they could contribute to the ailing education system and how best to increase the impact of their work in Grahamstown schools.
After submitting a proposal to Makana Municipality they received a response early in 2012 confirming the lease of the building, located opposite Joza Post Office. The groups moved-in in February this year.
She said the building was derelict at the time and had been badly vandalised. Since the inception of the Hub it has been restored.
She further said the purpose of the partnerships is threefold: to facilitate a coordinated approach to educational support that is strategically implemented and increases impact of the work; create a safe and stimulating space for young people to come in the afternoons; and to cut the running costs of all the partners by sharing resources.
Today the Hub accommodates various educational support programmes including Upstart Youth Development Programme, Village Scribe Association, Ikamva Youth, Access Music, and the Absa and Rhodes University partnership – Absa Achievers programme.
Upstart headed by Ms Shireen Badat and project manager Ms Mpumi Makinana, it encourages youth empowerment through a focus on strengthening literacy. The project reaches 250 learners per week and includes two full-time and three part-time staff as well as nine student volunteers from Rhodes University.
The Village Scribe Association incorporates an innovative approach to widening access to technology in local schools. Project manager Terri-Lynnne Penney oversees two part-time staff and two Rhodes University student volunteers. The project reaches 500 learners weekly.
Ikamva Youth equips learners with the knowledge, skills, networks and resources to access tertiary education or employment opportunities after Grade 12. The project reaches 159 Grade 9, 10 and 11 pupils in an intensive programme on weekend and afternoon classes. There are currently three full time staff and 37 student volunteers from Rhodes University.
Access Music provides training opportunities for musicians in both an individual and group format and currently reaches 175 learners on a weekly basis. The project comprises one full-time staff member, one part-time and five student volunteers from Rhodes University and Victoria Girls' High School.
Absa and Rhodes University's programme ranging from academic to life skills support has reached 580 learners who partook in the various summer and winter schools with 13 of these learners being accepted to study at Rhodes University in 2014. Included in this group is the ABSA Achievers programme. Thirteen out of 60 committed learners have been accepted to study at Rhodes University in 2014. Others have applied various tertiary institutions in the Eastern Cape.
Ms Hornby said these programmes have reached 1 664 learners collectively this year on a daily or weekly basis and the value of the work that has been undertaken so far is estimated at R2.5 million. A total of 79 Rhodes University students volunteer on the various programmes.
She said Absa's financial support has been invaluable, which facilitated the renovations of the building, contributed to the purchase of new computers and paid for maths, science and reading clubs, financial management and entrepreneurship courses. Rhodes IT have contributed generously and established the internet facilities . "I'm sure you'll agree this amounts to an enormous contribution towards the shaping of our society. What we have seen today is a great success story and I believe it will grow from strength to strength," she added.
Guest speaker, Mr Radio Mcuba, Principal of Khutliso Daniels High School spoke of the challenges faced by many local teachers in an increasingly strained education sector. "In my 25 years of teaching and 13 years as a school manager I've noticed that basic education with its curriculum restructuring … has also contributed to creating gaps not only for learners but teachers as well.
"It has eroded confidence not only from educators but also learners and robbed them of essential problem solving skills. The system has taken away from our educators the career passion, instead there is continued in-fighting between teacher unions and government and continued cut down of the number of teachers. This creates tension and disharmony – peace and happiness is compromised, and corruption becomes the order of the day. Against all odds however the expectation from every school manager is to manage as though all is well."
In the absence of any obvious solution Mr Mcuba called on parents to take responsibility of their children's education by attending school meetings and encouraging their children to learn.
He said the establishment of the Joza Youth Hub, serves as a significant gesture and response to closing the gap as a form of social responsibility.
By Sarah-Jane Bradfield
Source:Communications and Marketing