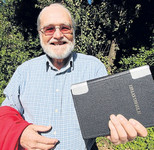 Rhodes > Latest News > 2013
Koos's Xhosa Bible grammar honour
Date Released:
Sat, 6 April 2013 14:15 +0200
AN AFRIKAANS church "Dominee" who retired before most of this year's Rhodes University graduates were even born, has earned his PhD for a paper on Xhosa Bible grammar - almost 60 years after he studied African languages.
Born and raised in rural Transkei by his missionary parents, 79-year-old Dutch Reformed Church minister JC "Koos" Oosthuysen - who retired in 1992 - spent his first few years at a Xhosa school in Western Pondoland, where he learnt the language, traditions and customs of his classmates.
"I grew up speaking Xhosa taught to me by my pals at primary school in Isilimela near Mpande," he recalled. "I then went to an Afrikaans school before being sent to high school with the sons of local traders - where they tried to teach me cricket and English," he chuckled.
Now considered a leading expert on revised Xhosa grammar, Oosthuysen's work is highly regarded thanks to his many years of dedicated work correctly translating Bibles, hymns and other documents. Although officially retired, Dominee Koos is also Professor Russell Kaschula's first post doctoral fellow of the prestigious National Research Foundation SARChI Chair in African languages at Rhodes University's acclaimed School of Languages.
His research is groundbreaking in the sense that he has reinvented isiXhosa grammar from an Africanist perspective, taking into account isiXhosa as a language in its own right rather than influenced by Western missionary perspectives and categories," Kaschula explained. "It has been such a great pleasure to work with a man of such wisdom and great knowledge, in-depth mother-tongue knowledge that has come from a lifetime of service to a language and its peoples."
When he finished school, Oosthuysen worked for years as a minister in the "Xhosa section" of the segregated church in the Western and Eastern Cape -juggling his time between the pulpit and working on grammar and translations. Oosthuysen also dedicated 21 years working part-time with the Bible Society of South Africa, coordinating an acclaimed translation of the Bible by several experts from Hebrew into isiXhosa.
The translation was finally completed in 1996. "Our aim was to make it more understandable - also, words and their meaning sometime change through the years." He said a Eurocentric approach to Xhosa grammar and translation meant it was often done from an English perspective Oosthuysen is the oldest out of 2 288 students graduating from Rhodes this weekend.
Vice-chancellor Dr Saleem Badat has said for a campus of 7200 students, Rhodes boasted the best graduation rate among South African universities. A large chunk - 1 340 - will receive undergraduate degrees and 948 were post graduates - including a record 63 PhDs - with 495 students coming from 30 countries around the world.
"Among South African universities, Rhodes has one of the most favourable academic staff to student ratios, which means that students are guaranteed easy access to academic and close supervision," Badat said. — davidm @dispatch. co.za
Picture Cpation: GROUNDBREAKING WORK: Xhosa grammar expert Dominee JC 'Koos' Oosthuysen will receive his PhD from Rhodes University
Picture DAVID MACGREGOR
Article BY DAVID MACGREGOR
Source: SATURDAY DISPATCH
Source: