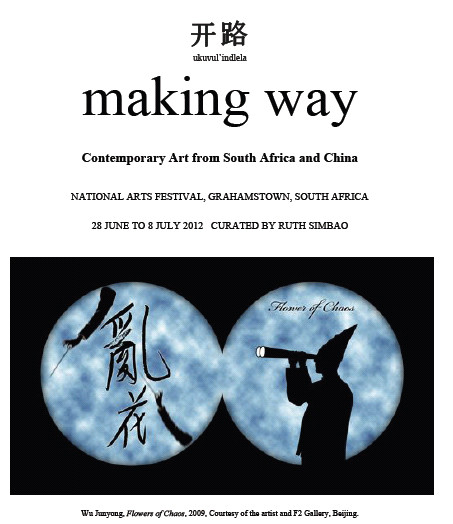 Rhodes > Latest News > 2013
Making Way – contemporary art from South Africa and China
Date Released:
Fri, 6 July 2012 11:59 +0200
Fine Art lecturer Ruth Simbao has a busy National Arts Festival in 2012. As curator of Making Way - Contemporary Art from South Africa and China, she is the driving force behind the main programme event, which runs from 28 June to 8 July, in some of the most eclectic and startling spaces in Grahamstown.
Making way, in navigation terms, suggests a ship moving ahead under its own power. Simbao uses it to represent progress across land too for, as she says, "Land is not as grounded as it used to be."
While there has been much written in the Western press about the economic links between the two countries, little attention has been paid to the China-Africa engagement in terms of culture or the visual arts, and Simbao hopes to both increase awareness of art and challenge preconceived notions and fears about the Chinese presence in South Africa and on the African continent.
Making Way will mark the first time that the works of internationally acclaimed Chinese artists Wu Junyong, Chen Qiulin, Maleonn and Qin Ga are shown in South Africa. Joining them in the exhibition are African artists including Dotun Makun and Gerald Machona.
Machona, using his trademark decommissioned Zimbabwe dollars, presents From China with Love. Doung Anwar Jahangeer, an alternative architect, artist and performer, developed the concept of "architecture without walls". He will lead his audience on a City Walk of Grahamstown, in its 200th year and with a formidable history of colonialism and violence.
Presenting a piece which offers a large-scale view of an interlinking motif in the Making Way exhibition is Dan Halter, a Zimbabwean artist whose four metre-long collage of a world map is created using the toughened plastic bags, striped in red, blue and white, which are made in China and are ubiquitous across the African continent. Depending on their condition, the bags make a subtle statement on diasporic movements, both forced and voluntary.
Maleonn, a young artist from China, works to both display and subvert the differences between the old China of Mao's generation, and the fast-growing China of today. Maleonn's work will share space at the Provost with Wu Junyong, whose video installation in the tower casts a binocular look at human nature and human interactions, focusing on issues of power, gluttony and greed.
Other venues include the Alumni Gallery at the Albany Museum, and Fort Selwyn, where visual and performing artist Randall Hartzenberg will present, a new performance, Three Days. In another fascinating segment of Making Way, Athi-Patra Ruga will collaborate with Standard Bank Young Artist Award winner Mikhael Subotzky by bringing aspects of their separate work together in a unique performance which can only be viewed through the Victorian camera obscura in the Observatory Museum.
Finally, be sure to stand under the giant tree outside the Provost when you've finished viewing the exhibit. If you hear unfamiliar trills, you'll be listening to the art of James Webb from Cape Town, whose work deals with migration, strangeness and xenophobia, and whose recordings of Chinese birdsong will be providing an auditory cross-cultural moment for Festival-goers.
Source: