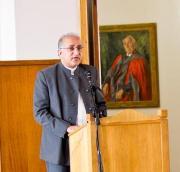 Rhodes > Latest News > 2013
Millions for new buildings at Rhodes
Date Released:
Fri, 26 October 2012 13:00 +0200
The Department of Higher Education & Training has awarded Rhodes University R 170 million for new buildings and facilities.
The funds provide for a R 100 million Life Sciences building, a R 31 million School of Languages building, and a new student residence and the renovation of residences and halls valued at R 36 million.
The costs of the fully completed Life Sciences and Languages buildings are estimated at R 200 million and R 60 million. The DHET funds will cover phase one of the new buildings.
The University will also spend R 24 million on improvements to its Pharmacy facilities and science laboratories. R 3 million will be spent on improving facilities for students and staff with special needs.
Rhodes is required to invest R 30 million of its own funds so that over the next three years R 200 million will be spent on new infrastructure.
These developments are in addition to a new R 17 million Teacher Education building currently under construction, and various small upgrades and refurbishments.
Rhodes University Vice-Chancellor, Dr Saleem Badat welcomed the news as a strong vote of confidence in Rhodes future development and plans and 'recognition of its educational and social contributions and academic performance'.
It was also 'testimony to the University's effective, transparent and accountable use of past funding'. Previous funding from the Higher Education department have resulted in a spectacular new R 75 million library complex, postgraduate research facilities, student resides and halls, and state of the science equipment.
Dr Badat says that the new projects will boost the local construction industry and employment.
While the new buildings would bring various benefits for Grahamstown, he expressed concern about the Makana Municipality's capacity to efficiently and effectively support the University's growth.
'Despite good rains, parts of the University and town are without water for a considerable period. Roads adjacent to the University are in a state of disrepair. It is a matter of great concern whether the Municipality fully appreciates how it impacts on the University's operations and could affect our future development, with negative consequences for the town'.
Source: