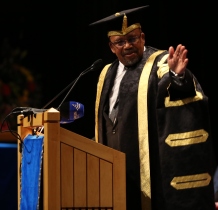 Rhodes > Latest News > 2013
New chancellor all about rights
Date Released:
Sat, 6 April 2013 13:59 +0200
Rhodes celebrates as Judge Mpati installed SUPREME Court of Appeal President Judge Lex Mpati was installed as Rhodes University Chancellor at a gala first graduation ceremony this week.
Proud parents of graduates, academics, fellow chancellors, bishops and mayors applauded and ululated as registrar Dr Steve Fourie stripped Mpati of his plain red gown and replaced it with the splendid black and gold gown traditionally worn by the Rhodes Chancellor at graduation ceremonies.
Rhodes Vice-Chancellor Dr Saleem Badat said Mpati, an alumnus of the university, was a humble man of intellect and integrity who personified the Rhodes motto of Strength, Virtue, Truth and the Rhodes slogan Where Leaders Learn.
"You are a superb role model for Rhodes students and staff." Mpati studied a BA and an LLB at Rhodes in the late 1970s and early 1980s as a mature student while working as a barman to support his young family. He achieved both degrees in just five years. "The foundations for this outstanding legal career were laid here at Rhodes University and in Grahamstown," said Badat.
As state repression grew in the 1980s, the young attorney represented victims of human rights violations across the Eastern Cape. He became an advocate in 1989 and later the in-house counsel for the Grahamstown Legal Resources Centre, taking on human rights cases, in particular representing victims of police brutality.
In 1996 he was appointed a high court judge of the Eastern Cape Division. In 2000 he was elevated to a judge of the SCA. He became deputy president of the SCA in 2003, and president in 2008. Mpati said he was deeply humbled and honoured to be elected as Rhodes Chancellor. He said that higher education was critical for economic growth and to the future of every developing nation.
Rhodes graduates no longer had to focus on achieving democracy but rather on sustaining it, he said. South Africa remained an unequal society with an unacceptably high unemployment rate. Poverty was a serious threat to democracy.
"We need to ensure that promises made in the constitution, particularly those relating to the foundational values of human dignity, equality and freedom for all, are realised." Mpati said universities like Rhodes could become a primary tool for Africa's development in the new century.
Mpati replaces former chancellor Prof Jakes Gerwel, who died late last year.
By ADRIENNE CARLISLE
Source: Daily Dispatch
Picture Source: Kodak Grahamstown
Source:Daily Dispatch