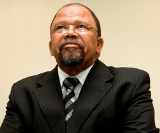 Rhodes > Latest News > 2013
New Chancellor for Rhodes
Date Released:
Fri, 22 February 2013 15:59 +0200
Following an extensive process of nominations and deliberations, and with the approval of the University Council, it is a great pleasure to announce the Honourable Justice Lex Mpati as the new Chancellor of Rhodes University.
Judge Mpati is President of the Supreme Court of Appeal, a post he has held since 2008 when he became the first Rhodes Law alumnus to be so appointed. As such, he is the third most senior judicial person in South Africa (after the Chief Justice and Deputy Chief Justice of the Constitutional Court). He was elevated to the Bench in 1997, and has been a Judge of Appeal since 2000.
Judge Mpati has deep roots in Grahamstown and the Eastern Cape province. He was born in Durban in 1949 but his schooling was in the Eastern Cape – first at St Joseph's Catholic School in Fort Beaufort and then at Mary Waters High School in Grahamstown, from which he matriculated in 1967.
Following school and until 1980 he worked as a petrol attendant, works clerk, furniture salesman and barman. It was his experiences of injustice as a petrol attendant that motivated him to study law in an effort to make a difference in the oppressive and divided apartheid society in which he grew up.
Judge Mpati enrolled at Rhodes in 1979, under a special permit (required by black students), and graduated in 1982 with a BA degree in Legal Theory and isiXhosa. He graduated with an LLB in 1984. He was only the second black student to graduate with an LLB from Rhodes.
Following graduation he worked as an attorney in Grahamstown and served as the Secretary of the Grahamstown Side-Bar Association between 1985 and 1987. He was extensively involved in human rights issues throughout the Eastern Cape.
In 1989 he became an Advocate and a member of the Eastern Cape Society of Advocates until 1997. Between 1993 and 1996, he served as the in-house Counsel of the Legal Resources Centre. He was a member of the National Association of Democratic Lawyers, and a member of the panel of arbitrators of IMSSA (Independent Mediation Service of South Africa).
Judge Mpati has served as a member of the Board of Trustees of All Saints College in King Williamstown, and in 1994 was Co-chairperson of the Grahamstown Local Government Negotiating Forum and a member of the Electoral Tribunal.
In late 1994 he spent two weeks in Chile as a member of a task team sent by the first post-1994 Minister of Justice to interview various interested parties and individuals on the Chilean Truth Commission. In 1995, he served on the Commission of Enquiry into the finalisation of the boundaries between KwaZulu-Natal and the Eastern Cape Province.
He was appointed Senior Counsel in April 1996, Acting Judge of the Eastern Cape Division of the High Court during 1996-1997, and Judge of the High Court of the Eastern Cape Division between 1997 and 2000.
He was Acting Judge of Appeal during 1999-2000, became Judge of Appeal in December 2000, Deputy President of the Supreme Court of Appeal in 2003, and finally President of the Supreme Court of Appeal in August 2008. He is also a member of the Judicial Services Commission.
Judge Mpati has been involved in legal education and training in various ways. He has acted as an external examiner in the Rhodes Law Faculty and moderator of the National Bar Examination. He was a member of the Judicial Education Planning Committee, a sub-committee of the Judicial Service Commission, and an Extraordinary Professor at the University of Free State in the Department of Constitutional Law and Philosophy of Law.
He is a longstanding trustee of the Legal Resources Centre, and served on the Rhodes University Council from 1996 to 2008. In 2004, on the 100th anniversary of Rhodes, he was awarded an honorary LLD degree by the University; another honorary degree followed from Nelson Mandela Metropolitan University.
Judge Mpati has a great passion for rugby. He played rugby for and captained Old Collegians Rugby Football Club in Grahamstown, and represented South Eastern Districts Rugby Union at provincial level. He served as General Secretary and President of the South Eastern Districts Rugby Union, and was Assistant Secretary of the South African Rugby Union between 1986 and 1992. Thereafter, he served on the National Executive Committee of the South African Rugby Football Union (SARFU), and became a member of the National Judicial Committee of SARFU, serving as its chairperson for a period.
He was appointed by the International Rugby Board as Judicial Officer for the 2003 Rugby World Cup in Australia and is currently a member of South Africa/New Zealand/Australian Rugby (SANZAR).
Judge Mpati has retained a close association with his alma mater. He is an inspirational figure for law students who he exhorts to use their knowledge, expertise and skills to promote justice and human rights in whatever field they may work in.
A humble man of great intellect and wonderful integrity, who personifies the Rhodes motto of Strength, Virtue, Truth and the Rhodes slogan Where Leaders Learn, Judge Mpati is a superb role model for Rhodes students.
Rhodes University looks forward to Judge Mpati's tenure as Chancellor, during which time he will preside over the University graduation ceremonies, award degrees, diplomas and certificates to graduating students, grace special occasions and events and provide wise counsel when required.
By Vice-Chancellor
Dr Saleem Badat
Source: