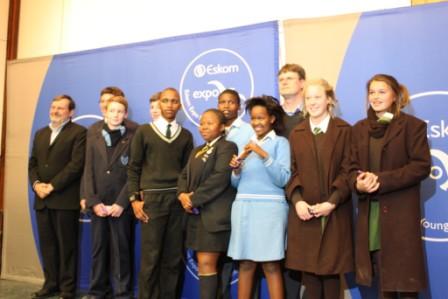 Rhodes > Latest News > 2013
Nurturing the minds of young scientists
Date Released:
Thu, 2 August 2012 11:59 +0200
Now in its 23rd year, the Eskom Expo for Young Scientists was a bustling and inspiring event. Annually the Chemistry Department at Rhodes University is packed with learners from grades 6-12 from Grahamstown schools, all eager to share their innovative projects with their peers and judges.
Organised by SciFest Africa and hosted by Rhodes University, the Expo included 126 entries and a whopping 200 learners, who examined local issues such as finding alternatives to the bucket toilet system to how climate change affects plants.
Moderated by Ms Joyce Sewry of the Chemistry Department and Dr Garth Cambray, the two have been involved with the Expo for over 10 years.
Ms Sewry says it is inspiring to see how the learners refine their research from one year to the next. "But it doesn't get any easier," she admits. Dr Cambray agreed, adding: "It makes one fit, watching the cycle from silver to gold." He entered the Expo himself as a youth, so he knows how the opportunity nurtures young minds.
The top six projects presented their findings (in only four minutes) before a selection of judges including the Dean of Science, Prof Ric Bernard. SciFest Director, Ms Anja Fourie, who also hosted the prize giving ceremony, noticed a clear improvement in the level of projects by previous entrants, also noting how the new tendency for independent schools to mentor development learners in the region has made a significant difference. This year, two schools who had not previously entered, participated in the Eskom Expo.
The learners received one year's tuition bursaries to study at Rhodes- if studying towards a science degree. They were also automatically entered into the national expo in Johannesburg from 4 to 6 October, where they will contend with learners from all over the country to travel to the USA for the International Expo. Six gold medals were awarded, 10 silver medals, 19 bronze and six special awards.
The overall winning project was entitled "Save the Rhinos: Training the Honeybee" and was developed by two Kingswood College Grade 9 learners, Jamie Stone and Louise Poole. They trained six honeybees in just over 15 minutes to stick out their probosces in anticipation of tasting sugar water to which ground kudu horn has been added. "Bees have an incredibly sensitive sense of smell," says Poole. "They can smell the equivalent of a grain of salt in an Olympic-sized swimming pool."
In second place was Caitlin Allison from DSG (Grade 9), a self-confessed "passionate marine biologist". She examined the environmentally toxic ingredients in anti-fouling paint, which is painted on the bottom of boats to slow them down and increase fuel consumption. She proved that organic, zinc-based paint is more effective and more environmentally friendly.
Third were Roxanna Williamson and Ruth-Ann Graham from DSG who added polystyrene to create a lighter brick that insulates well. Hot on their heels in 4th place were Megan Myer and Celine Leach (also of DSG) who also created a lighter and therefore cheaper type of brick by adding up to 5% of sawdust gleaned from alien trees.
In 5th place was the only male finalist, Mbasa Ngcoza of Graeme College, who explored the purifying application of duckweed to combat water pollution.
Prof Bernard and Mr Thys Muller, the general manager of Eskom Distributions presented the certificates and prizes to the learners. Prof Bernard said the expo is instrumental in generating new knowledge and ideas through the use of original research. "This is the breeding ground for the next generation of scientists," he said.
Story and photo by Anna-Karien Otto
Source: