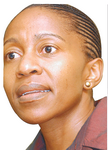 Rhodes > Latest News > 2013
Old Rhodian named Nelson Mandela Metro boss
Date Released:
Fri, 22 February 2013 12:59 +0200
Hopes high for end to ANC infighting, chaos AFTER more than three and a half years of administrative chaos and political bickering, the Nelson Mandela Bay council has finally appointed a municipal manager Dr Lindiwe Msengana-Ndlela.
Yesterday's appointment is a crucial and much anticipated step towards restoring stability and proper governance to the Eastern Cape's biggest metro. At a council meeting held behind closed doors, councillors unanimously voted in favour of Msengana-Ndlela.
She was up against Monde Tom, who is also from the Eastern Cape, and Thupi Zacharia Mokhatla, from North West. They were candidates handpicked by headhunting company Pin Point Human Resources. The three were interviewed by a multi-party panel on Saturday and Msengana-Ndlela scored the highest points.
Expressing their joy and relief at an appointment finally being made after four failed attempts, councillors cried, sang and danced in the chambers. One surprise was the full support given by all of the ANC to Msengana-Ndlela.
There had been speculation that the faction aligned to the ANC regional executive committee were championing integrated development plan director Dr Sithembele Vatala, who has been under suspension for some time.
Msengana-Ndlela will start on March 1 and acting chief financial officer Selwyn Thys will continue to hold the fort until then. When she enters City Hall next Friday, Msengana-Ndlela will have the tough task of addressing all the challenges in the city and coming up with a plan to turn the crumbling administration around.
First on her list of duties will be to appoint all nine permanent executive directors. She said yesterday she first wanted to hear about her appointment from the council before she could discuss any plans. Msengana-Ndlela, 47, who was born in Cala and has three grown-up children, will be returning to her home province. She left when she was appointed director-general in the national Department of Provincial and Local Government when Sydney Mufamadi was minister.
She resigned from the department in 2009 after a fall-out with new minister, Sicelo Shiceka. Msengana-Ndlela currently works at the Human Sciences Research Council, based in Cape Town.
COPE councillor Rano Kayser believes she has the experience and skills to run the metro.
"Analysing her CV and background, we are confident that she can add value."
Dr Lindiwe Msengana-Ndlela's qualifications and experience:
QUALIFICATIONS:
BCom degree and University Education Diploma from Rhodes University.
BEd and Master of Business Leadership from Unisa.
PhD in urban governance, leadership and local economic development from the University of Warwick in the UK.
EXPERIENCE:
Director-general and accounting officer of the Department of Provincial and Local Government (DPLG) between 2002 and 2009 (under then-Minister Sydney Mufamadi), managing a budget that grew from R6-billion to more than R24-billion.She had a series of successive unqualified audit opinions from the auditor-general.
Co-chairperson of the governance and administration cluster of the Forum of South African Directors-General (Fosad) and chairperson of the technical committee to the President's Coordinating Council. Her previous portfolios were in trade and industry, sport, arts, culture and heritage.
Former non-executive board member of organisations such as the Development Bank of Southern Africa (DBSA); a participant in a number of public, private and community sector partnerships, and facilitator of development initiatives with international donor agencies.
Since her departure from the DPLG in 2009, she has undertaken extensive local and international research on urban governance and has since 2012 been a post-doctoral fellow at the Human Sciences Research Council (HSRC).
Story by: Rochelle de Kock
Caption: WELCOME MOVE: Highly qualified Dr Lindiwe Msengana-Ndlela has been appointed as the Bay's municipal manager
Source: HERALD (Morning Final) 22 Feb 2013
Source: