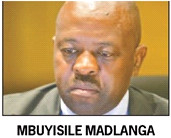 Rhodes > Latest News > 2013
Old Rhodian on shortlist for Concourt seat
Date Released:
Thu, 17 January 2013 08:59 +0200
A SENIOR Mthatha advocate, Rhodes Law School graduate and judge of the Competition Appeal Court is one of five candidates shortlisted for a prestigious position on the Constitutional Court bench.
Mbuyisile Madlanga SC will be one of the candidates interviewed by the Judicial Service Commission (JSC) next month for a seat on the bench. The JSC published its shortlist on Tuesday. Justice Zac Yacoob's seat on the bench will become vacant when he retires at the end of the month.
The other candidates for the position include judges Ronnie Bosielo, Selby Baqwa and Brian Spilg, and senior counsel Jeremy Gauntlett. Madlanga completed his B Juris Degree at the University of the Transkei and his LLB at Rhodes. He went on to obtain an LLM (awarded cum laude) from the University of Notre Dame South Bend, in Indiana in the US, in 1990.
He was a member of the Mthatha Bar before being appointed a judge of the high court, a judge of the Competition Appeal Court, an acting judge of the Supreme Court of Appeal and an acting justice of the Constitutional Court. In 2001 he resigned from the bench and returned to practise as a senior counsel in Mthatha and Johannesburg. He retained his membership of the Competition Tribunal and has been serving as its deputy president since 2009.
In 2004 he was part of the South African team to appear before the International Court of Justice at The Hague in The Netherlands on behalf of South Africa in the matter of the "separation wall constructed by Israel on occupied Palestinian territory".
More recently he was the evidence leader in the commission of inquiry into the controversial leases concluded between businessman Roux Shabangu and former police commissioner Bheki Cele. He also heads the team leading evidence in the Farlam Commission of Inquiry into the deaths of several miners at Marikana during the industrial unrest at the mine last year. Madlanga has also served on the Judicial Service Commission since 2010.
Story by: Estelle Ellis ellise@timesmedia.co.za
Source: The HERALD
Source: